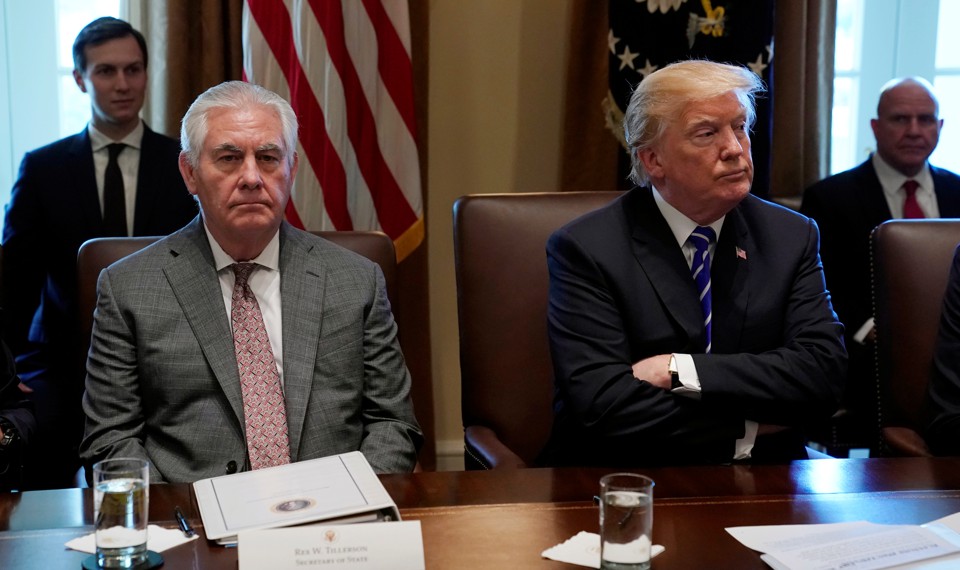 Rexmate! The king is dead—or at least out of a job.
That's according to The New York Times, which says President Trump has decided to remove Secretary of State Rex Tillerson and replace him with CIA Director Mike Pompeo. The timing of the move is newsworthy, but Tillerson's demise has long been expected, given repeated conflicts between Trump and Tillerson, a loss of faith in the secretary within the halls of the State Department, and Tillerson's evident dissatisfaction with the job, including reportedly calling the president a "moron."
The Times reports that Senator Tom Cotton, an Arkansas Republican, is the frontrunner to replace Pompeo.
Assuming the report proves true, it will bring an end to Tillerson's short, tumultuous, and largely ineffective term, which followed a long and successful career at ExxonMobil. Tillerson was not part of Trump's campaign team, and never appeared to have an ideology similar to the president's, but as Jason Zengerle noted in October, Trump was impressed by Tillerson's mien and asked him to take the secretary job at their first meeting in December. But Tillerson's term proved a disaster, beset by problems both internal and external.
On the foreign stage, his instincts quickly came into conflict with the president's. Trump is a brash, impulsive player with little regard for history or fact, while Tillerson is a cautious and process-oriented manager. Trump repeatedly undercut the secretary, on issue after issue. He allowed other members of the administration to contradict Tillerson on dealing with Syria. He dismissed Russian interference in the election, despite Tillerson's affirmations of it. In a diplomatic standoff between Qatar and Gulf states led by Saudi Arabia, Trump publicly undercut Tillerson's Qatar-friendly stand. When it emerged that the State Department was speaking to North Korea through a back channel, Trump condescendingly slapped Tillerson down in …read more
Via:: The Atlantic