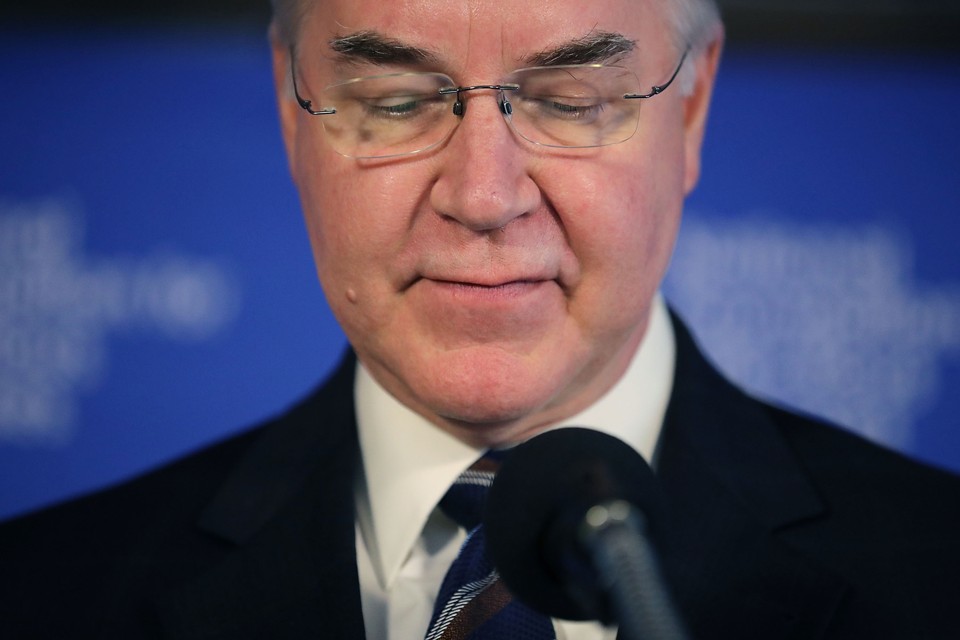 Tom Price resigned as secretary of Health and Human Services Friday, amid a controversy over spending more than $1 million in taxpayer money on private and military jets.
Price "offered his resignation earlier today and the president accepted," the White House said in a terse statement sent late Friday afternoon. Don Wright, a deputy assistant secretary, will serve as acting secretary.
Earlier in the day, President Trump had told reporters that Price was a "fine man" but that he'd make a decision by the end of the day on whether to keep Price in place.
The resignation is in some ways strikingly typical—it's the sort of workaday scandal that has felled many a government official—yet it comes from an administration that has redefined the type and scope of controversy, from a White House in unprecedented turmoil to the increasingly baroque and many-headed Russia investigation.
Price's departure caps a stormy and unusually short tenure. A physician from Georgia who previously served in Congress, Price was subject to withering attacks during his confirmation hearings from Democrats, who said that his trading of health-care stocks that were affected by his work in Congress was dubious at best and insider trading at worst. Once confirmed in February, he found himself in the midst of the frantic, shambling effort to repeal the Affordable Care Act. At a Boy Scout rally in West Virginia in July, Trump joked that he'd fire Price if Obamacare repeal failed.
After several attempts, the law remains in place, but it was the taxpayer-funded travel that doomed Price. He said the costly flights he took were made in an official capacity, but various reports suggest that he was at the very least mixing his personal and professional travel—for example by taking a private jet to a Georgia resort where he owns land, and then speaking …read more
Via:: The Atlantic