By Angela Nagle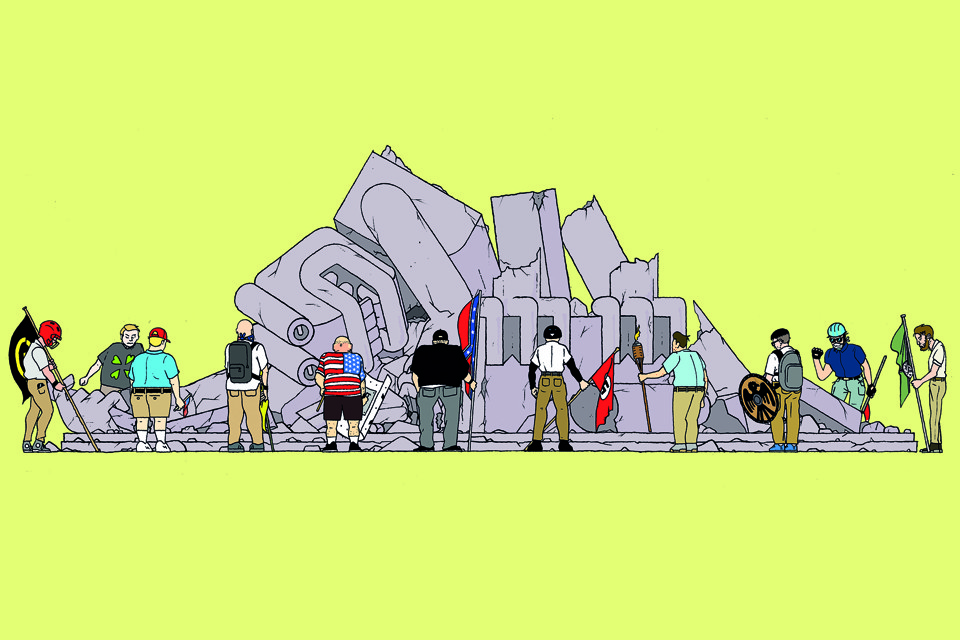 The sudden emergence of the so-called alt-right from the dark recesses of the internet into the American mainstream was at first more baffling than shocking. The young people sharing strange, coded frog memes and declaring their commitment to white identity politics on obscure websites remained in the realm of the unserious—or at least the unknowable and weird.
Then, last November, The Atlantic published footage of a prominent alt-right provocateur, Richard Spencer, raising a glass to Donald Trump's election at a conference in Washington, D.C. "Hail Trump!" he shouted, and in response, audience members saluted in unmistakably Nazi style. The incident made waves—here were young men behaving, in public, like fascists. But Spencer laughed it off, claiming that the gestures were "ironic." The methods and meaning of the alt-right were as yet elusive.
It wasn't until the events in Charlottesville, Virginia, in August that the alt-right took on a form that most Americans could finally grasp as a real, and unambiguous, political movement. A disciplined, torch-lit procession snaked through a college town, with white men shouting explicitly white-nationalist slogans in chorus. A true believer drove his Dodge Challenger into a crowd of counterprotesters and was charged with killing a woman named Heather Heyer. Could it be that these "ironic" young men had meant what they were saying all along?
To answer this question—and to comprehend the powerful and unexpected effect Charlottesville is having on the alt-right itself—we need to understand what the movement is, and what it is not. Unlike old-fashioned, monolithic political movements, the alt-right is a fractious, fluid coalition comprising bloggers and vloggers, gamers, social-media personalities, and charismatic ringleaders like Spencer, who share an antiestablishment, anti-left politics and an enthusiasm for the political career of Donald Trump. Older theorists who predate the 2016 election—men such as Jared …read more
Via:: The Atlantic