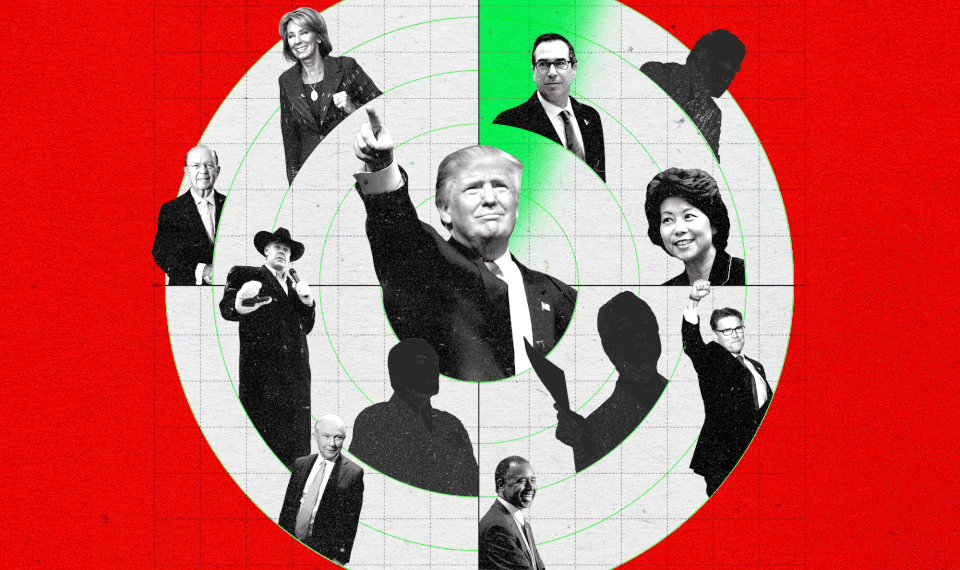 Updated on March 13 at 2:23 p.m. ET
President Trump's Cabinet will undergo its third major shuffle in less than a year with the ouster of Rex Tillerson as secretary of state.
The president announced Tuesday morning that he would replace Tillerson with CIA Director Mike Pompeo and elevate Pompeo's deputy, Gina Haspel, to become the first woman to head the intelligence agency. The shift means that four members of Trump's original Cabinet—which wasn't fully confirmed by the Senate until just shy of his 100th day in office—will either be gone or in new senior-level jobs for the bulk of the second year of the president's term.
Last summer, Trump made Homeland Security Secretary John Kelly his chief of staff and replaced him with Kirstjen Nielsen, who didn't win Senate approval until December. And in January, the Senate confirmed Alex Azar to become secretary of health and human services, four months after Trump's first health chief, Tom Price, resigned amid reports of his extravagant travel spending habits as secretary.
The Cabinet shuffle pales in comparison to the high turnover among the White House senior staff, which has seen the departures via resignation or firing of the chief of staff, chief strategist, press secretary, multiple communications directors, and other top officials. Still, there could be more Cabinet changes to come, and Trump told reporters Tuesday he was "very close" to having the Cabinet he wanted—a hint that he wasn't totally satisfied with his team as it stands. He has repeatedly berated his attorney general, Jeff Sessions, and his secretary of veterans affairs, David Shulkin, has waged an unusually public battle to save his job following his own spending scandal.
Both Pompeo and Haspel will be subject to confirmation by a Senate that is even more closely divided than it was during the debate over Trump's first …read more
Via:: The Atlantic