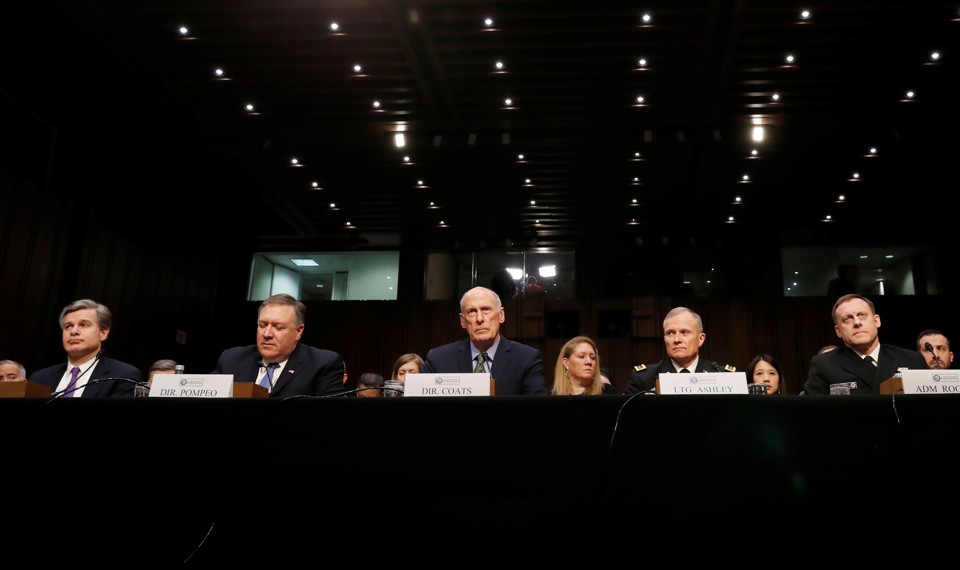 Today in 5 Lines
During a Senate Intelligence Committee hearing on global threats facing the United States, Director of National Intelligence Dan Coats said he expects Russia will try to disrupt the upcoming midterm elections. FBI Director Chris Wray said President Trump has not "specifically directed" the intelligence community's efforts to counter future Russian meddling. Wray also told lawmakers that the bureau provided the White House with information about former staff secretary Rob Porter twice last year, contradicting White House testimony that the process of looking into Porter's background "hadn't been completed." Porter resigned last week amid allegations of verbal and physical abuse by two ex-wives. Israeli police recommended that Prime Minister Benjamin Netanyahu be indicted on charges of bribery, fraud, and breach of trust.
---
Today on The Atlantic
Follow stories throughout the day with our Politics & Policy portal.
---
Snapshot
---
What We're Reading
Blue Apron, From the Government?: The Trump administration is proposing a change to the Supplemental Nutrition Assistance Program. Under the proposal, …read more
Via:: <a href=http://feedproxy.google.com/~r/AtlanticPoliticsChannel/~3/SaYf68Fk0zI/ class="colorbox" title="The Atlantic Politics & Policy Daily: The Wray We Were" rel=nofollow>The Atlantic