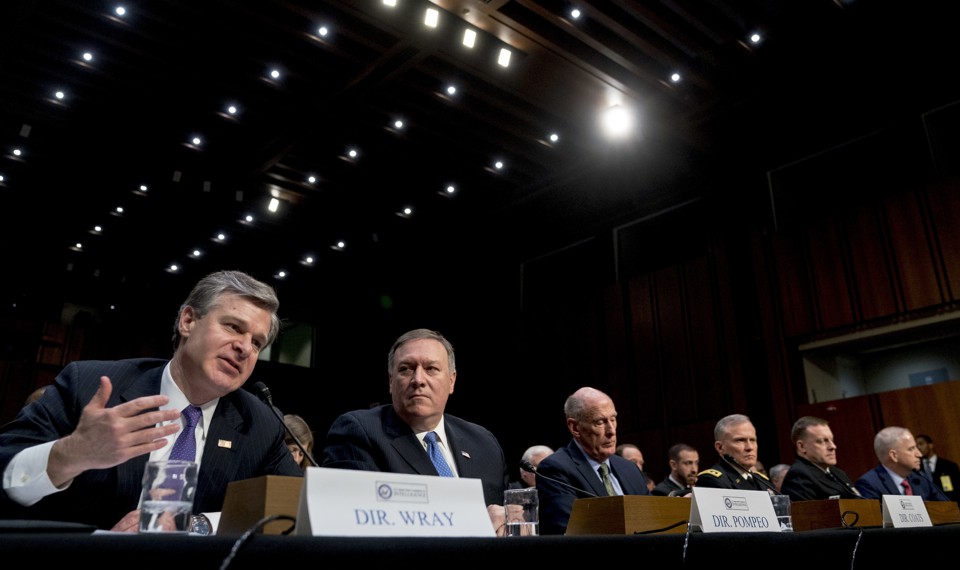 The country's leading intelligence officials said Tuesday that Russia intends to  interfere in the upcoming midterm elections. But they wouldn't discuss in an open setting what the U.S. intelligence community is doing to stop it—or how it could be combatted without the support of the White House.
"There should be no doubt that Russia perceives its past efforts as successful and views the 2018 U.S. midterm elections as a potential target for Russian influence operations," Dan Coats, the Director of National Intelligence, said during the Senate Intelligence Committee's annual worldwide-threats hearing on Tuesday.
"We have seen Russian activity and intentions to have an impact on the next election cycle," CIA Director Mike Pompeo said later. Other top intelligence officials, including the FBI Director Chris Wray, agreed.
The director of the National Security Agency, Mike Rogers, emphasized that steps should be taken "to ensure the American people that their vote is sanctioned and not manipulated in any way," and Coats advocated for as much transparency as possible.
"We need to inform the American public that this is real … and that we are not going to allow some Russian to tell us how we're going to vote," Coats said. "There needs to be a national cry for that."
That national cry, however, won't begin with the intelligence community and is unlikely to emanate from the White House. According to Wray, Trump has shown little if any interest in disrupting Russian election interference in 2018 and beyond. His administration declined to implement new sanctions on Russia earlier this month that were aimed at punishing Moscow for its meddling in 2016 and deterring Putin from trying again.
Trump signed a new sanctions bill into law last summer only reluctantly, calling the legislation "seriously flawed" and  complaining that it "encroaches on the executive branch's authority to negotiate." He's called the …read more
Via:: The Atlantic