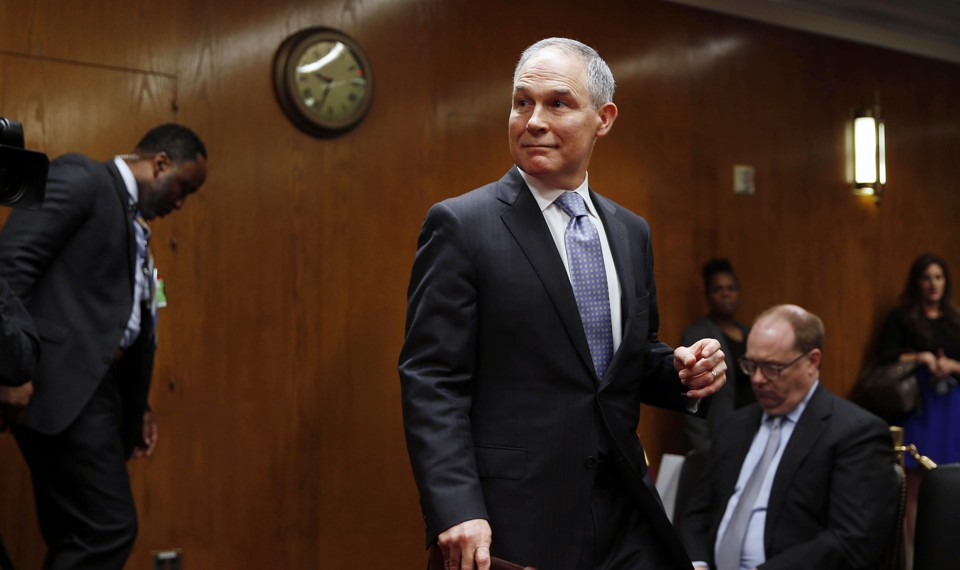 Wednesday morning, The Washington Post reported that EPA Administrator Scott Pruitt had a top aide at the agency call Republican donors to try to get his wife a job. For most Cabinet officials in recent American history, such a revelation would likely be a career ender.
For Pruitt, it was just Wednesday morning.
This is not the first case of Pruitt appearing to use his position in the government to get his wife a job, a clear conflict of interest. Previous reports revealed that Pruitt asked an aide to arrange calls with Chick-fil-A executives about securing a franchise of the fast-food restaurant for his wife. In the end, Marilyn Pruitt, who previously worked as a school nurse, didn't complete the application process for a Chick-fil-A, but she did end up with a job at the Judicial Crisis Network, having been referred there by the head of the Federalist Society, the influential conservative legal foundation, whose chief traveled overseas with Pruitt.
The impropriety of using government employees, paid by taxpayer money, to seek a job for one's spouse seems self-explanatory: Pruitt is using public funds and resources to seek a profit for himself and his family. The latest revelation did garner some new surprise. Laura Ingraham, the influential pro-Trump Fox News host, called for Pruitt to resign or be fired. Republican Senator James Inhofe of Oklahoma, Pruitt's home state, also said the latest news might demand Pruitt's departure.
Perhaps this episode will be different, but Pruitt has seemingly successfully adopted the model that worked for his boss, President Trump: When everything is a scandal, nothing is a scandal. There are so many stories of corruption and abuse of power swirling around the administrator that the public becomes numb to them, relieving pressure for accountability.
So let's review …read more
Via:: The Atlantic