By Clare Foran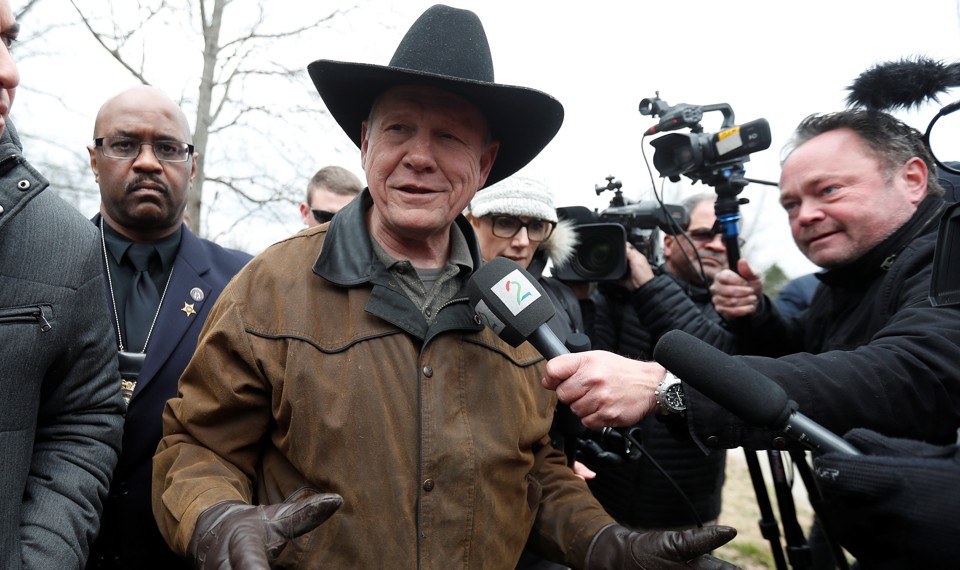 Alabama voters will decide on Tuesday whether to send Republican Roy Moore or Democrat Doug Jones to the Senate in the race to fill the seat previously held by Attorney General Jeff Sessions. Polls in the closely-watched, and surprisingly competitive, race close at 8 p.m. Eastern.
Alabama is a deeply conservative state. But Moore's campaign is embroiled in controversy and allegations of past sexual misconduct, creating an opening for a possible upset by Jones. Moore has a lead of 2.2 points in polling averages, but polls has been all over the place and the outcome could go either way.
Moore is a former Alabama Chief Justice who gained notoriety for defying federal court orders to take down a monument to the Ten Commandments and uphold the legality of same-sex marriage. He faces allegations of sexual assault from multiple women, including women who say they were teenagers when he made advances toward them. Moore has denied the accusations.
Jones is a former U.S. attorney known for prosecuting members of the Ku Klux Klan for the bombing of a black baptist church in Birmingham in the 1960s, an attack that left four girls dead. Despite campaigning in solidly Republican territory, Jones has run as a pro-choice, pro-immigrant-rights Democrat.
If Moore wins, the Senate Republican establishment will have to grapple with the allegations he faces. A number of Senate Republicans have said that Moore will face an ethics investigation if he wins. National Republican Senatorial Committee Chairman Cory Gardner, has said that the Senate should vote to expel Moore if he wins. President Trump has endorsed Moore, and would likely oppose expulsion.
If Jones wins, it would be a major upset. Flipping a Senate seat would narrow the already razor-thin Republican majority in the chamber, making it harder for Republicans to pass significant legislation. …read more
Via:: The Atlantic