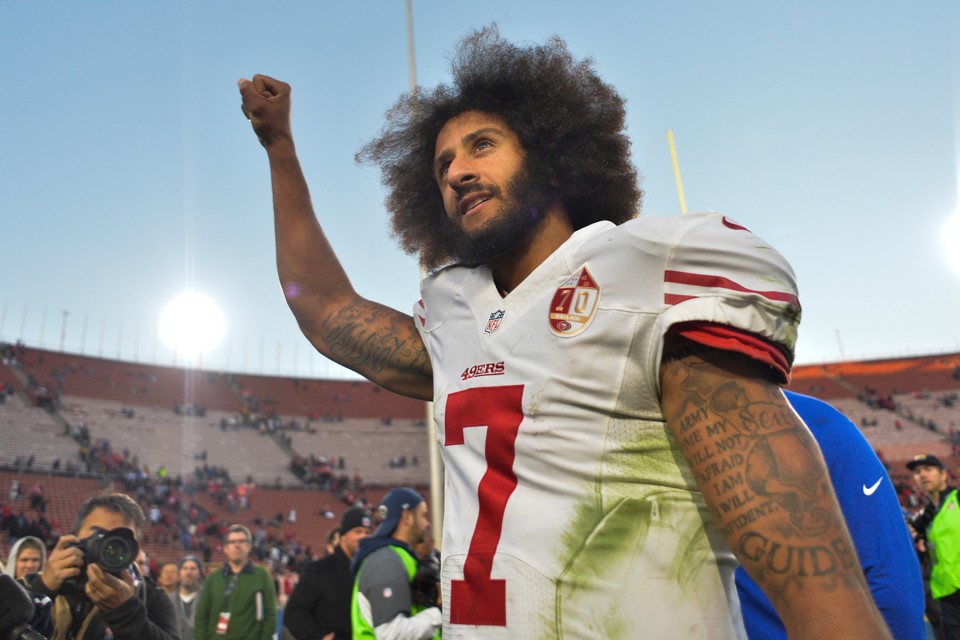 Friday morning, things didn't look great for Colin Kaepernick.
The former San Francisco 49er had made headlines around the world last season for kneeling during the National Anthem. The offseason had seen a raging debate about the fact that he hadn't been signed from free agency, which boiled down to whether teams were justified in deciding that his controversial protest outweighed his talent. Despite some comically atrocious performances by quarterbacks on NFL rosters in the first two weeks of the season, Kaepernick remained unsigned. A few fellow players said publicly that he deserved a roster spot somewhere, and some had taken up his protest, but it remained a niche question, and the cause to which Kaepernick wished to draw attention—police brutality against people of color—had faded a bit from the headlines, overwhelmed by the onslaught of Trump-related news.
Then came President Trump's riff during a rally in Alabama Friday night.
"Wouldn't you love to see one of these NFL owners, when somebody disrespects our flag, to say, 'Get that son of a bitch off the field right now, out,'" Trump said. "'He's fired. He's fired!'"
By the close of the weekend, the president wasn't contending just with Kaepernick. He was facing off with hundreds of NFL players, who had either taken a knee, like Kaepernick, or stayed in the locker room during the playing of the National Anthem. He'd been scolded by multiple team owners, including his personal friend Robert Kraft of the New England Patriots, and the NFL commissioner. The dispute had spilled over the bounds of NFL and included LeBron James and Steph Curry. Even Michael Jordan, who (supposedly) …read more
Via:: The Atlantic