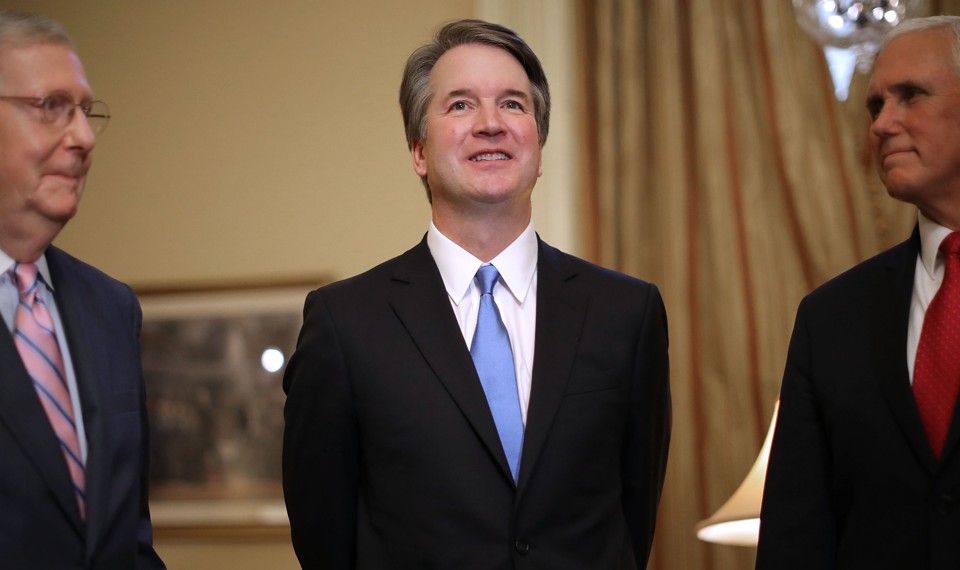 For all the uncertainty over Brett Kavanaugh's views on abortion, the real key to his legal—and political—impact on the Supreme Court could eventually be his demonstrated resistance to the federal regulation of business.
Kavanaugh's repeated votes as an appellate-court judge to overturn federal regulatory actions point toward a Court even more adamantly tilted than it is today against environmental, consumer-protection, and financial-reform rules.
That shift could trigger interlocked political consequences that unfold for years. From one direction, it could help the GOP answer one of the most delicate questions of the Donald Trump era: how to maintain the allegiance of business amid widespread unease among many corporate leaders about the key pillars of Trump's racially divisive economic nationalism. But in the process, a Court consistently resistant to constraints on corporate power may also intensify the populist backlash against business that's already visible among Democrats, with the rising influence of Senator Bernie Sanders and like-minded allies.
While Kavanaugh's record offers few clues about his view on the 1973 Roe v. Wade decision that legalized abortion nationwide, he has demonstrated an unequivocal skepticism about federal regulation of business. Jennifer Mascott, a former Kavanaugh law clerk and an assistant professor at George Mason University's law school, recently wrote that, "Even during this era of generous judicial deference to administrative agencies, Judge Kavanaugh has written 40 opinions finding agency action to be unlawful and joined majority opinions reversing agency action in at least 35 additional cases."
With that history, Kavanaugh, if he's confirmed, would join the four other Republican-appointed justices to produce a Court possibly more hostile to federal administrative authority over business than at any point in at least 80 years, predicts Stephen Vladeck, a University of Texas law professor who closely tracks the D.C. Circuit Court of Appeals where Kavanaugh has served since 2006.
In a …read more
Via:: The Atlantic