President Donald Trump's long-time personal attorney Michael Cohen arrives at a New York court on April 16, 2018 in New York City. (Photo: Spencer Platt/Getty Images)
Speculation has begun to grow that Michael Cohen, Trump's long-time personal attorney whose office and home were raided by the FBI, may agree to cooperate with Robert Mueller's investigation. If so, he could go down in history with Salvatore "Sammy the Bull" Gravano, the mobster whose testimony ultimately destroyed the Gotti crime family.
President Donald Trump's long-time personal attorney Michael Cohen arrives at a New York court on April 16, 2018 in New York City. (Photo: Spencer Platt/Getty Images)
The Schofield Kid: Yeah, well, I guess they had it coming.

William Munny: We all have it coming, Kid.

— "Unforgiven"
When your current lawyer has his home and office plundered of all paperwork by FBI agents bearing judge-certified warrants, and your old lawyer tells you your current lawyer is almost certainly going to give you up to the feds to save himself, you are having a bad day.
This is precisely the predicament Mr. Trump finds himself in, according to his old attorney, Jay Goldberg, who represented Trump's interests for many years. In an interview with CBS News, Goldberg said he was all but certain Michael Cohen …read more
Via:: Truthout
When she was growing up, Rachel Bailey was taught that only rich, self-indulgent White people suffered from mental health issues. Black people were supposed to be tougher. Although she remembers struggling with what was later diagnosed as bipolar disorder since she was 4 years old, it wasn't until age 34 that she began to seek treatment, checking herself into a psychiatric ward after a severe mental breakdown.
"People of other races, especially White people, they get to be crazy and have their reasons and their subtle shades of insanity," Bailey says. "It's unfair that you get to be insane in colorful ways and I just get to be nuts and go to jail and rot there."
Bailey was one of 11 Black performers who shared their stories in front of an audience of 600 people at TMI Project's inaugural #BlackStoriesMatter show in 2017.
Among the performers was Tina-Lynn Dickerson, who spoke about becoming homeless after being evicted from her home in the now gentrified Harlem neighborhood she grew up in, and Micah Blumenthal, who spoke about how the lack of meaningful Black characters in film affected him as a child.
TMI Project is a nonprofit based in Kingston, New York, that works to uplift the voices of underrepresented populations in the community by helping them share their stories publicly. This is done through monologue-writing workshops that, if the writer chooses, culminate in a performance in front of an audience.
The goal is to raise awareness about different social issues, give people new perspectives, and inspire people to take action, says Eva Tenuto, co-founder and executive director of TMI …read more
Via:: Truthout
Puebla, Mexico, 8 April 2018: An annual Easter march to shine a light on the plight of Central Americans living in a region with the highest murder rate in the world drew the attention of international aid groups, the United Nations … and the President of the United States. While the U.N. admonished the government of Mexico to provide safe conduct to the approximately 1,200 persons who crossed the southern border of their country, Donald Trump reacted with incommensurate fear, threatening to deploy National Guard troops to his own border, 1,200 miles (2,000 km) away.
The march, or caravan, is also known as the Via Crucis del Migrante (Migrant Stations of the Cross). A more-or-less yearly event, the caravan has been organized by Pueblo Sin Fronteras (People Without Borders), an NGO with a presence in Arizona, for over a decade. The original Via Crucis recalls the path Jesus Christ took to his execution according to the Christian religion: a fourteen-step journey that recounts the burdens, humiliations, consolations, torture and death he suffered, before being resurrected and ascending to heaven on what was to become Easter Sunday. In historically Catholic Central America, marking the Stations is a significant event.
Usually numbering less than a hundred, Via Crucis del Migrante 2018 grew unexpectedly, according to organizer Irineo Mújica, though not unpredictably in retrospect. This year's caravan has a high number of Hondurans, reflecting that country's extreme levels of violence and deepening political crisis following a contested presidential election in November that resulted in widespread protests and "excessive use of …read more
Via:: Truthout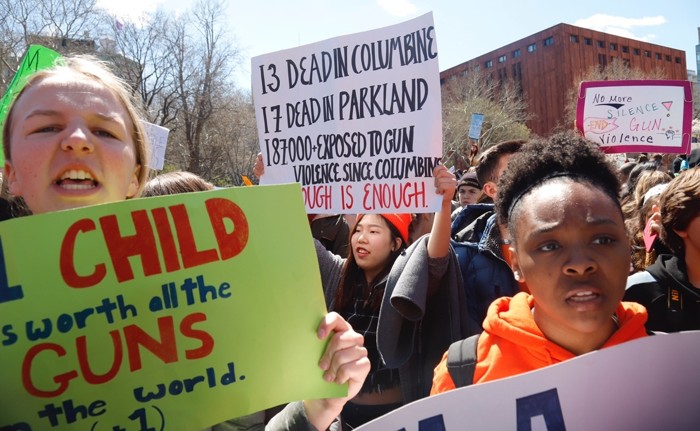 Today in 5 Lines
---
Today on The Atlantic
---
Snapshot