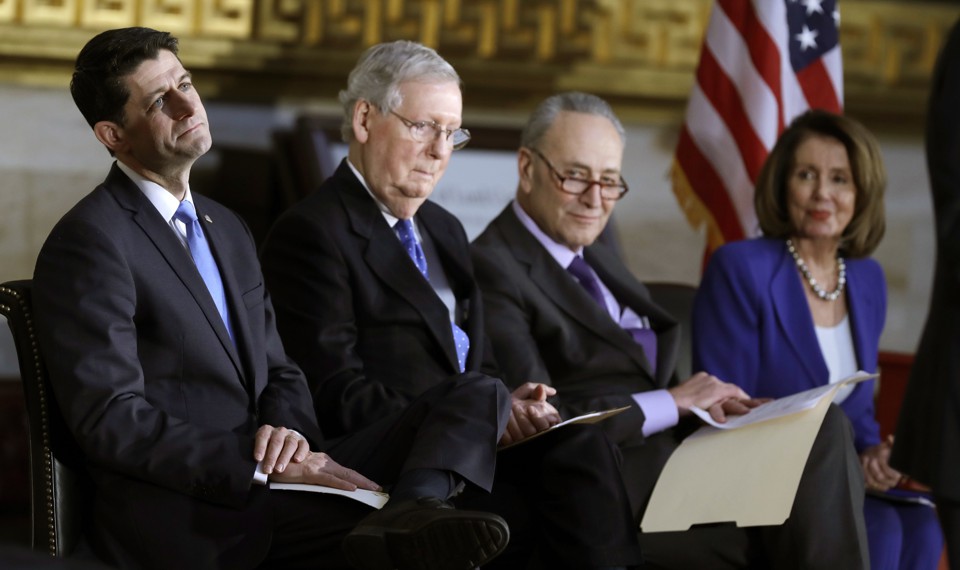 Congress is on the verge of shutting down the federal government on the anniversary of President Trump's inauguration.
Hours before a midnight deadline, negotiations between the president and Senate Minority Leader Charles Schumer had failed to yield a breakthrough in an impasse over immigration. The Senate was sitting on a House-passed bill to keep the government open for nearly another month and give the two parties more time to work out a long-term budget agreement and a deal to protect nearly 700,000 young immigrants at risk for deportation beginning in early March. But Democrats and a handful of Republicans were prepared to block that bill and send the government into a shutdown.
Early in the afternoon, Trump called Schumer to the White House for a 90-minute meeting to resolve the impasse. But it was inconclusive. "We had a long and detailed meeting," Schumer told reporters upon returning to the Capitol. "We discussed all of the major outstanding issues, we made some progress, but we still have a good number of disagreements. The discussions will continue."
Trump put a more positive spin on the talks in a tweet posted shortly after 5 p.m. ET. Still, he announced no agreement.
Excellent preliminary meeting in Oval with @SenSchumer – working on solutions for Security and our great Military together with @SenateMajLdr McConnell and @SpeakerRyan. Making progress – four week extension would be best!

— Donald J. Trump (@realDonaldTrump) January 19, 2018
https://platform.twitter.com/widgets.js
Democrats had been opposed to a four-week extension passed by the House, however, and by late in the afternoon, the only hope for a last-minute deal appeared to be one that would keep the government open for another few days—but not a full month—to force Democrats, Republicans, and the White House to come together on a broader agreement. Democrats …read more
Via:: The Atlantic