By Matt Ford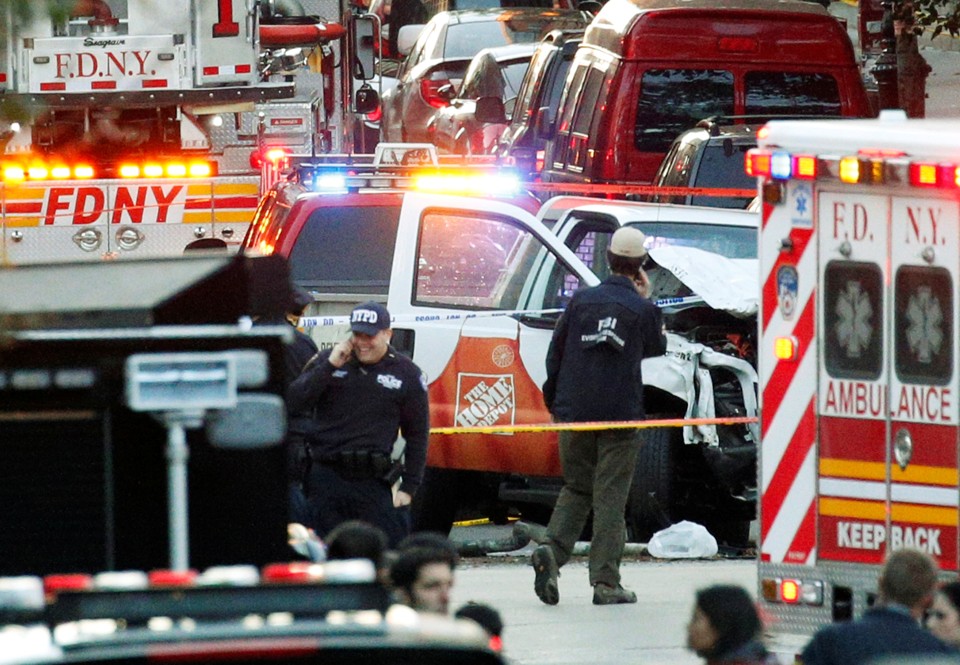 A man drove a truck down a pedestrian and bike path in Lower Manhattan on Tuesday afternoon, killing 8 people and wounding at least a dozen others in what authorities are describing as the deadliest terror attack in New York City since 9/11. Local police shot and then arrested the suspect, and New York leaders were quick to insist that the city would continue with its normal activities.
New York City Mayor Bill de Blasio described the attack as a "particularly cowardly act of terror" during a Tuesday afternoon press conference. No organizations have yet claimed responsibility. "At this point, there's no evidence to suggest a wider plot or wider scheme," New York Governor Andrew Cuomo said, describing the attacker as a "lone wolf."
The incident poses a test for President Donald Trump. In the wake of terror attacks, Americans look to their leaders for comfort, and for resolve. He has often been criticized for racing to level accusations after suspected incidents of jihadist terror, even before details are available, and for his contrasting silence in the face of suspected attacks by right-wing extremists. Trump's response on Tuesday night fit that pattern in some respects, but also proved notably more restrained than it has often been in the past.
As reports of the attack spread on social media, members of the Trump family took to Twitter to offer their condolences. "My heart breaks for [New York City] today," First Lady Melania Trump wrote. "Thoughts & prayers as we monitor the situation." Ivanka Trump added that she was "praying for the victims" of the "heartbreaking" attack.
President Trump, however, began by striking a different tone. "In NYC, looks like another attack by a very sick and deranged person," he wrote. "Law enforcement is following this closely. NOT IN THE U.S.A.!" One hour later, he added: …read more
Via:: The Atlantic