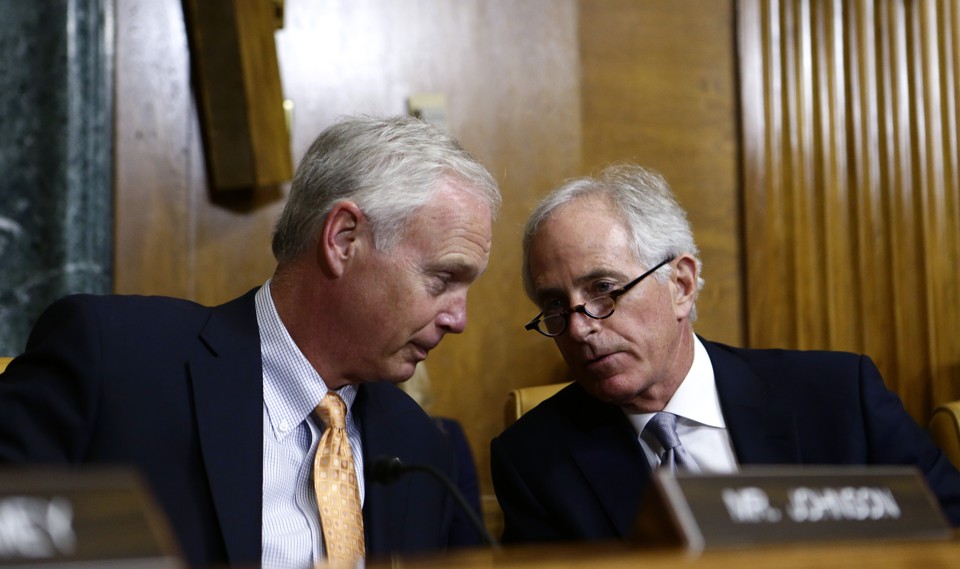 The Senate tax bill is moving closer to a climactic final passage, but it faced an unexpected threat late Thursday afternoon after a new analysis found that it would increase the debt far more than party leaders had claimed.
A group of GOP senators, led by Bob Corker of Tennessee, refused for more than a hour to vote down a Democratic bid to defeat the $1.4 trillion tax cut. After huddling and trading proposals with colleagues on the Senate floor, the lawmakers each voted with their fellow Republicans to allow the measure to advance. However, Corker's support for the chamber's final legislation, which will soon go up for a vote, is still in doubt: The Senate parliamentarian ruled that his proposal for a tax-hike "trigger" would not comply with the chamber's strict rules for passing bills with only a simple-majority vote. Corker and Senator John Cornyn of Texas, the second-ranking Republican, said the party would now consider automatically rolling back some of the plan's tax cuts to secure its eventual approval.
Republicans hope to pass the tax bill late Thursday night or early Friday, setting up negotiations with the House on a reconciled package that President Trump could sign into law. Whether scaling back the cuts will threaten the Senate bill is unclear, but it is sure to upset House conservatives who have watched the Senate negotiations with alarm. Earlier on Thursday, several said they opposed the trigger, a measure that could cause taxes to go back up if the economy doesn't grow as fast as congressional Republicans say it will. Conservative activists have also mobilized against the idea, arguing it would undermine the tax cuts and deter business investment.
The drama on the Senate floor occurred barely an hour after the nonpartisan Joint Committee …read more
Via:: The Atlantic