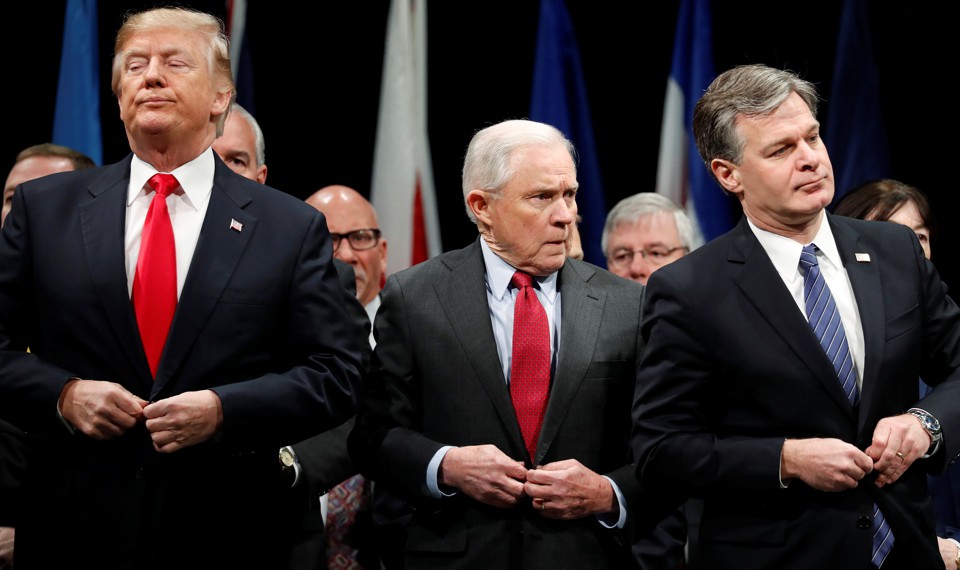 President Trump spent his early Wednesday morning, as he does many mornings, on Twitter. This time, he chose to weigh in on the "Criminal Deep State" and the claims that it embedded a spy in his presidential campaign as part of the federal investigation into Russia's election interference.
"They go after Phony Collusion with Russia, a made up Scam, and end up getting caught in a major SPY scandal the likes of which this country may never have seen before!" he wrote.
Much has been written in recent days about Trump's "new" strategy to discredit the Russia investigation. The president has been attacking both the investigators in the Russia probe and the news organizations that cover the investigation, all in an attempt to persuade the public that the probe has been tainted by bias from the start. The frequency of these attacks may be climbing, but Trump's tactics have actually remained remarkably consistent—beginning before he even took office. "Intelligence agencies should never have allowed this fake news to 'leak' into the public," Trump tweeted on January 11, 2017, referring to a dossier published by BuzzFeed that alleged collusion between his campaign team and Russia. "One last shot at me," he added. "Are we living in Nazi Germany?"
The rhetoric, while normal from this president, is norm-shattering. More puzzling, however, is the extent to which Trump has instigated a Republican-led war on intelligence agencies.
Republicans, touting themselves as the party of law and order, have long aligned themselves with the law-enforcement and intelligence communities. Just before the presidential election, Trump's newest lawyer and spokesman Rudy Giuliani defended the FBI against criticism about the agency's handling of an investigation into Hillary Clinton's private email server. FBI agents "don't look at it politically," he said at the time. He frequently touted his …read more
Via:: The Atlantic