Borrowing ideas from the European New Right and "Generation Identity" in France, the "alt-right" is looking to expand a so-called identitarian movement onto US soil. The recently launched "Operation Homeland" project will attempt to recruit young folks on college campuses, beginning in March with an event at Michigan State University.
Surrounded by his bodyguards, alt-right leader Richard Spencer answers questions of reporters during a rally at the Lincoln Memorial in Washington, DC, June 25, 2017. (Photo: Astrid Riecken For The Washington Post via Getty Images)
The "alt-right" didn't really enter the spotlight of mainstream US culture until it dropped back into the gutter. For the first years of its infancy, from the founding of "AlternativeRight.com" in 2010 until the popularization of the #AltRight hashtag in early 2015, members had focused on trying to rehabilitate the image of white nationalism.
A bad public image, terrorist violence, a history of mass genocide and vulgar racism had understandably made white nationalists pariahs, and Richard Spencer, the essential founder of the movement, wanted to wash all that away. Instead, the "alt-right" would take the example of the European New Right and focus on making a pseudo-academic movement that could influence what Spencer identified as "meta-politics" — ideas and identities that are "pre-political."
It wasn't until the slew of trolls, podcasters and hashtags flowed into their world that the "alt-right" was able to expand, although it came at the cost of their previous base-building "intellectual" work. Now, their major publications have returned to their white supremacist roots, filled with expletive-laced vitriol toward non-white people.
As the "alt-right" movement tries to move from its online world, which has largely kicked members off of their web platforms and into real-world activism, members are having a tough …read more
Via:: Truthout
A ground crew member signals to an EA-18G Growler as it returns from a flight during heavy snows at Naval Air Facility Misawa. (Photo: Mass Communication Specialist 1st Class Kenneth G. Takada / US Navy)
The National Environmental Policy Act, a law requiring federal agencies like the Department of Defense (DOD) to assess the environmental effects of proposed actions prior to implementation, has been used instead by the DOD to place millions of US citizens in harm's way.
A ground crew member signals to an EA-18G Growler as it returns from a flight during heavy snows at Naval Air Facility Misawa. (Photo: Mass Communication Specialist 1st Class Kenneth G. Takada / US Navy)
While it has long been known the US military is one of the biggest polluters in the world, the egregious and intentional nature of its actions is less well known.
Canadian researchers recently revealed how an extremely toxic chemical used in US military explosives that the Pentagon has been downplaying for decades has been seeping into surrounding communities for years.
Meanwhile, as Truthout has reported extensively, US Naval warplanes are producing deadly levels of jet noise around airstrips in the Pacific Northwest, despite widespread public outcry.
For years, the Department of Defense has been using the National Environmental Policy Act (NEPA), a 1970 law designed to protect people from harmful environmental …read more
Via:: Truthout
When we give someone a tip, we expect the money will go to the workers who provided us with service.
We might leave a little extra because someone went above and beyond for us. Or because we want that person to have a slightly easier time getting by.
Whatever the circumstance, we trust that the money will help the workers who served us.
But the National Restaurant Association — a group controlled by owners of major restaurant chains — has long been promoting the idea that business owners, not workers, should control the tips we leave.
If they have their way, the Department of Labor will soon let minimum wage employers confiscate all tips left by customers. Business owners would not have to disclose to patrons what happens to tips, and could simply pocket the tips themselves.
This would apply to anyone who receives tips — from the housekeeper who makes up your hotel room, to the valet who parks your car, to the assistant who pushes your wheelchair at the airport.
Overall, women represent two out of three tipped workers.
The NRA's key leadership includes Olive Garden, IHOP and Applebee's, Denny's, Cracker Barrel, Chili's, and Outback Steakhouse. These companies already have an egregious track record of squeezing workers while inflating CEO pay. If the new rule is finalized, they could use tips to fuel even more stock buybacks and CEO pay hikes.
By doing these companies' bidding, the Trump administration is poised to make life even harder for restaurant workers and their families. A recent study shows that more than half of hourly earnings for servers and bartenders …read more
Via:: Truthout
Voters still have more than eight months before the 2018 general elections, but some incumbent members of Congress are facing much earlier primary tests from members of their own party.
While these elections might not determine who controls the House and Senate next year, they could shift the ideological balance of power within the two parties.
Here, we explore the money side of some of the earlier contests where the incumbent faces being "primaried."
Illinois has one of the country's earliest primaries, and two Illinois congressional races are seeing Democratic incumbents struggle to raise money against primary challengers. In Illinois' 7th District — which covers downtown Chicago and extends to the western suburbs — incumbent Danny Davis faces Anthony Clark, a high school teacher and local activist. Although neither candidate has raised much money (Davis has raised $189,000, and Clark has raised only $47,000), Clark has raised more money from individual donors both large and small than Davis.
Davis, having represented the district since 1997, has the advantage of a sizable war chest with close to $300,000 cash on hand compared to Clark's $9,000. Clark is best known as a progressive activist, but Davis isn't particularly moderate and has previously received the endorsement of the Democratic Socialists of America.
The 3rd District faces what appears to be a closer race, certainly as far as money is concerned. The 3rd District shares some borders with the 7th but is more suburban. Businesswoman Marie Newman is challenging Rep. Daniel Lipinski — who originally won the seat thanks to the influence of his father, Rep. William Lipinski — and has outraised him among individual donors. She also has received some money from …read more
Via:: Truthout
Conservatives have a lot to worry about in the upcoming midterms, especially if recent special election results are any indication. But some politicians — both incumbents and challengers — face even more daunting tasks than they may realize when it comes to winning in November.
Here are four conservative politicians who are in major trouble in their local races:
1. Kelli Ward
Tea Party-backed Ward is scrambling hard to try to win a GOP primary against Arizona Rep. Martha McSally — both of whom want to replace retiring Republican Jeff Flake as Senator in 2018. With such strong competition, Ward needs every advantage she can find, which is why having the endorsement of the Arizona Monitor was such good news. Or it was, until it turned out to be "fake news."
Politico reports:
It looked as if Arizona Senate candidate Kelli Ward had scored a big endorsement: On Oct. 28, she posted a link on her campaign website and blasted out a Facebook post, quoting extensively from a column in the Arizona Monitor.
There was just one problem: Despite its reputable sounding name, the Arizona Monitor is not a real news site. It is an anonymous, pro-Ward blog that has referred to her primary opponent Martha McSally as "Shifty McSally," frequently blasted Flake and, at the top of its home page, proclaims its mission as "Striking Fear into the Heart of the Establishment." The site launched just a few weeks before publishing the endorsement, and its domain registration is hidden, masking the identity of its owner. On its Facebook page, it is classified as a news site, but scant other information is offered.
Too be fair though, it's probably no less legitimate than Breitbart.
2. Marsha Blackburn
In Arizona, Republicans are trying to …read more
Via:: Truthout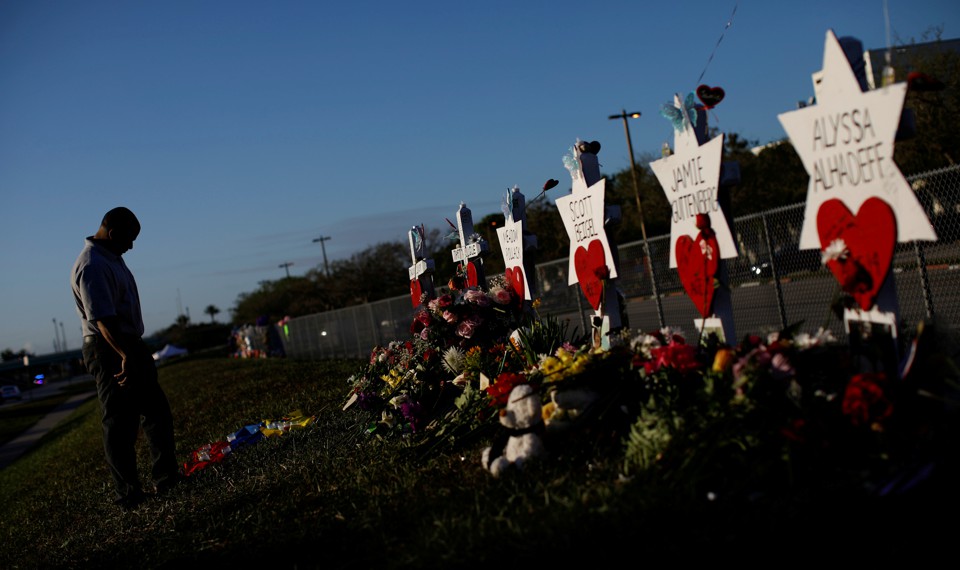 For recent items about gun massacres, and the public response, please see (starting with most recent):
In this installment, readers respond to the proposal in a previous item that the news media should become much less "restrained" and considerate, much more blunt and shocking, and instead "show us the carnage": Run pictures of the corpses of children and other civilians after gun attacks.  
From a reader in Kentucky:
What prompts me to write was the "show us the carnage" headline of your recent column. That headline likely resonated with anyone who lived in Louisville in 1989, when Joseph Wesbecker killed eight coworkers and wounded many more with an AK-47 at the Standard Gravure printing plant.

The plant was owned by the Bingham family, which had also owned the Courier-Journal until a few years prior. The next day, the Courier ran the attached photo on the front page, along with other photos of injured (and possibly dead) victims. I remember it like it was yesterday.
Via:: The Atlantic
By Andrew Exum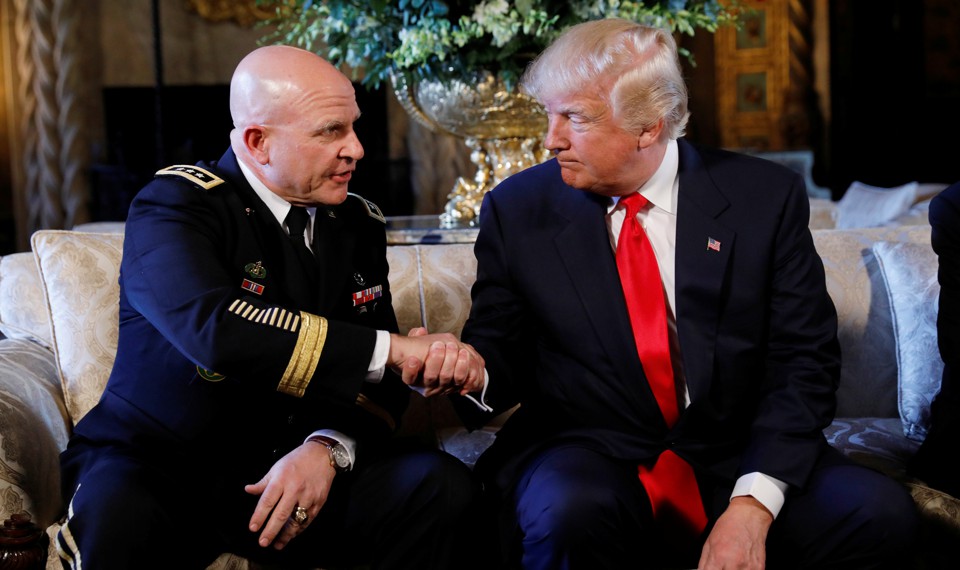 What a contrast.
I woke up on Sunday morning and first read the news accounts of National-Security Adviser H.R. McMaster's cogent speech to the Munich Security Conference. I then read the president's tweets. And some more tweets. And, just when I thought he was done, some more tweets.
As I have written before, you have to give this administration some credit for having assembled some pretty good foreign policy talent. The Republican Party arguably didn't have the deepest bench on foreign policy in 2017, having been out of the executive branch for eight years, and some of the best talent available to the administration after Trump was elected was ineligible for having signed one of the infamous Never Trump letters over the course of the 2016 campaign.
Nonetheless, I've been struck, in conversations with the men and women serving in the Department of Defense or on the National Security Council, by how good and earnest many of the people working for this president's administration are. Some of them are true believers, but far more common are retired or active duty military or intelligence officers (like McMaster) dragooned into political service, or longtime Republican Hill staffers who kept their noses clean in 2016. These folks are, as one friend told me, just keeping their heads down and concentrating on what they can affect rather than the things—like the president's tweets—that they cannot.
But here's another thing that struck me, which has been noted by other people who speak often to those in this administration: how rarely people mention Trump's name. You can have an hour-long conversation with someone serving in a national security billet in this administration, and they will tell you all about their problems and policies without ever mentioning the name of the president they are serving—unless …read more
Via:: The Atlantic