Dreamers and their supporters protest outside the US Capitol in Washington, DC, January 19, 2018. (Photo: Astrid Riecken For The Washington Post via Getty Images)
In May of last year, President Donald Trump said "our country needs a shutdown." Over the weekend he got his wish. After a tumultuous couple of weeks in which the president said he would agree to a clean DACA bill "of love" and then ranted about not wanting any more immigration from "shithole" countries, the Republican House majority voted for a stopgap spending measure to keep the government funded. But the Republican Senate couldn't muster more than 51 votes and it needed 60.
As I write this, all non-essential government services are closed and Senate Majority Leader Mitch McConnell is promising a vote on DACA if Democrats agree to a stopgap measure lasting until Feb. 8. He has scheduled a vote for noon on Monday. Of course they've been kicking this can down the road for months. McConnell promised the same thing in December and never delivered the DACA vote, but maybe he really means it this time.
The sticking points are a fix for DACA recipients, enhanced border security including the Trumpian border wall, newly introduced draconian restrictions on legal immigration and funding for the Children's Health Insurance Program. The DACA issue and the CHIP program basically involve young people and sick children being held as hostages by Republicans to get their extreme immigration policies enacted.
The best description of what the negotiations have been like over the past three days came from Senate Minority Leader Chuck Schumer in a …read more
Via:: Truthout
Hundreds of thousands of women took to the streets across the country this weekend to mark the first anniversary of last year's historic Women's March protesting President Trump's inauguration. As Democracy Now! broadcast from the Sundance Film Festival in Park City, Utah, protesters braved freezing temperatures and a snowstorm to take part in a Respect Rally. We feature the voices of longtime women's rights attorney Gloria Allred and actress Jane Fonda, and speak with actress Tessa Thompson, who played the superhero Valkyrie in the film "Thor," Samantha "Sam" White in "Dear White People" and Diane Nash in "Selma."
Please check back later for full transcript.
Via:: Truthout
Though equal access and civil rights don't seem very popular with the Trump administration, the Department of Education recently ruled that Texas denied disabled students their right to an education.
The verdict was an important victory not just for students within the state, but also those living elsewhere. Civil rights laws are only truly effective if they're enforced, and states considering moves similar to those seen in Texas will be reconsidering in light of this decision.
Here's what happened: Texas effectively instituted a quota on disability education services — sometimes known as special education. The state decided that up to 8.5 percent of enrolled students could receive services, even though the nationwide average suggests that 13 percent — and sometimes more — of school-age children have disabilities that might require accommodation and support.
As a result, some students who were legally entitled to such services by the nature of their disabilities were instead denied. This goes against the Individuals with Disabilities Education Act, which says states must provide a "free, appropriate public education" (FAPE) for disabled students.
For disabled …read more
Via:: Truthout
(Photo: Rawpixel)
There have been numerous news stories in the past few weeks about corporations doing the right thing with their big tax cuts. These stories tell us how they are giving higher pay to workers and have ambitious plans for new investment. The Trump administration has been crowing over these announcements as proving the success of their tax cut. There is much less here than meets the eye.
To start, we can look at the latest and biggest announcement in this category, Apple's plan to bring back $252 billion in cash that it held overseas. Apple announced it would make a one-time $38 billion tax payment on the repatriated money.
Before anyone starts celebrating, we should be clear what bringing back this cash means. Previously, this $252 billion had been credited to Apple's foreign subsidiaries. These subsidiaries had immediate legal claim to the money, which could in fact be anywhere in the world, including the United States.
What Apple did in repatriating this money was transfer the ownership claim from its subsidiaries to the parent company. It is entirely possible that this meant simply shifting money in an account at Citigroup owned by Apple's Irish subsidiary to an account at Citigroup owned by the parent company. This means essentially nothing to the US economy.
There is the one-time tax payment of $38 billion, but this is a savings of $43 billion against Apple's tax liability under the former system, according to the Institute for Taxation and Economic Policy. So it's hard to see the cause for celebration here.
Apple did announce that it was giving a …read more
Via:: Truthout
Jorge Garcia's wife and two teenage children sobbed as he was forced onto a plane bound for Mexico from Detroit on January 15. After more than 30 years living uneventfully in the US, the 39-year-old Garcia was deported.
Garcia did everything right — he paid his taxes, worked as a landscaper to support his family, and never had so much as a parking ticket. But because his efforts — he spent more than $125,000 in legal fees since 2005 — to find a way to documented status failed, the US government kicked him out.
According to the Detroit Free Press, Garcia was given a deportation order by the courts in 2009, but under the Obama administration, he had received repeated stays of removal. The Trump administration has reversed the longstanding policy of allowing such stays.
And because Garcia doesn't qualify for consideration under the Deferred Action for Childhood Arrivals (DACA) program — he was brought to the US as a child, but DACA doesn't cover people born before 1981 — the Garcia family have had their lives upended.
"How do you do this on Martin Luther King Jr. Day?" Erik Shelley, an activist with the immigrant rights group Michigan United said to the Free Press. "It's another example of the tone-deafness of this administration…If Jorge isn't safe, no one is safe."
But this is exactly the message that the Trump administration wants to send.
News reports last week warned of the Trump administration's plans for massive series of raids in San Francisco and other cities in Northern California. The operation could include flying in ICE agents to participate in raids designed to arrest as many as 1,500 people.
If this operation takes place, it would be a deliberate assault on sanctuary city laws designed to protect the undocumented. In response to …read more
Via:: Truthout
One year ago, President Donald Trump's inauguration broke records — not in turnout, but in inaugural donations.
Trump pulled in $107 million in individual contributions, nearly doubling President Barack Obama's 2009 record of $53 million. With the donations came a set of perks for top donors — "intimate" dinners with Vice President Mike Pence; exclusive luncheons with Cabinet appointees and congressional leaders; tickets to inaugural balls, dinners and luncheons with appearances by Trump.
The money came flooding in from corporate executives, owners of US sports teams and other wealthy benefactors. And this year, some came calling back.
The Center for Responsive Politics assessed Trump's relationships with his top donors a year after the January 20, 2017 inauguration. Some now hold ambassador positions while others have developed close relationships with the administration.
Inaugural Donors
Chief among the top donors was Sheldon Adelson, a GOP megadonor and CEO of the largest casino company in the United States, Las Vegas Sands Corp. He doled out $5 million for Trump's inauguration fund.
The donation was not only Trump's largest inaugural contribution, but the largest individual donation made to any presidential inaugural committee. He and his wife, Miriam Adelson, also donated nearly $83 million to Republicans in the 2016 election.
In the past year Adelson has pressed Trump to follow through on his campaign pledge to relocate the US Embassy in Israel to Jerusalem, a move Trump announced in December.
"The Adelsons reportedly have been disappointed in Trump's failure to keep a campaign pledge to move the US Embassy …read more
Via:: Truthout
(Left to right) Sen. Steve Daines, Sen. Patrick Leahy, Sen. Ron Wyden, Sen. Rand Paul and Sen. Elizabeth Warren hold a news conference about their proposed reforms to the Foreign Intelligence Surveillance Act in the Russell Senate Office Building on Capitol Hill January 16, 2018, in Washington, DC. The senators are part of a bipartisan group that supports legislation they say would protect Americans from foreign threats while preserving their privacy. (Photo by Chip Somodevilla/Getty Images)
When it voted 65 to 34 to pass the National Security Agency's Foreign Intelligence Surveillance Reauthorization Act of 2017, Congress gave Donald Trump vast authority to spy on Americans. Senate Republicans and Democrats have handed the Trump administration a dangerous tool to intercept our internet communications and target immigrants, people of color and government critics.
(Left to right) Sen. Steve Daines, Sen. Patrick Leahy, Sen. Ron Wyden, Sen. Rand Paul and Sen. Elizabeth Warren hold a news conference about their proposed reforms to the Foreign Intelligence Surveillance Act in the Russell Senate Office Building on Capitol Hill January 16, 2018, in Washington, DC. The senators are part of a bipartisan group that supports legislation they say would protect Americans from foreign threats while preserving their privacy. (Photo by …read more
Via:: Truthout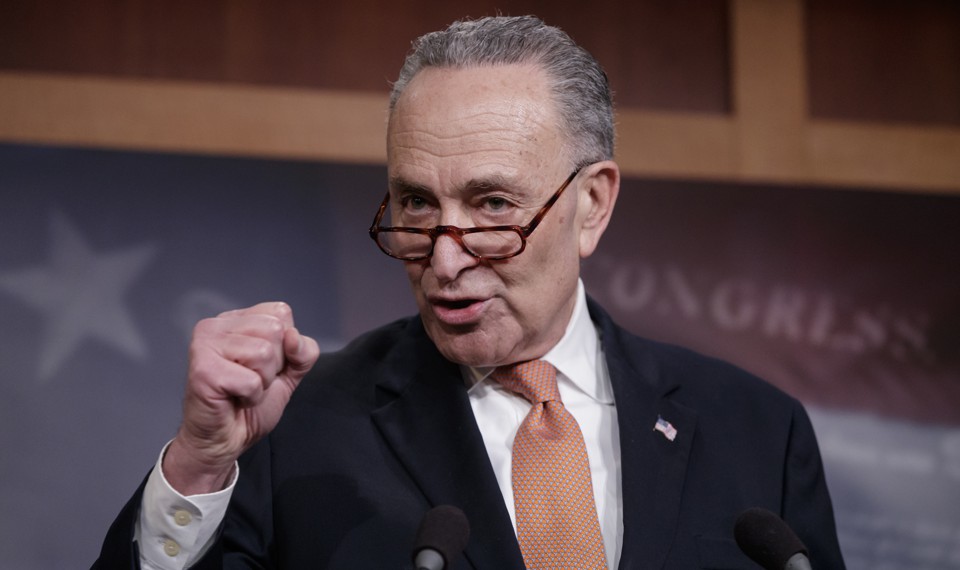 The federal government will not reopen on Monday morning. On Sunday night, Democratic leaders rejected an offer from Senate Majority Leader Mitch McConnell to consider immigration legislation in the next three weeks if they agreed to end the shutdown.
A large bipartisan group representing more than one-fifth of the Senate had been working throughout the weekend to resolve, at least temporarily, the stalemate that shut down the government on Saturday. Their goal was to nip the shutdown in the bud, avoiding the need to furlough hundreds of thousands of federal workers on Monday morning.
But shortly after 9 p.m Eastern, Senate Minority Leader Charles Schumer rebuffed McConnell's attempt to vote on a bill that would have restored federal funding for three weeks and kept the government open while party leaders negotiated a much broader agreement encompassing the budget, disaster aid, children's health care, and most delicately, the fate of nearly 700,000 young immigrants whose protections from deportation are set to end in early March. "Talks will continue,"  Schumer said, "but we have yet to reach an agreement on a path forward that would be acceptable to both sides."
Instead, the Senate is set to hold its next key vote Monday at noon. The question now is whether the two parties and the White House can strike a deal by then, or if not, whether a handful of Democrats will break with their party and accept McConnell's offer to reopen the government. Moments after McConnell made his offer, Republican Senator Jeff Flake of Arizona announced he would support his proposal for a three-week continuing resolution. Late Friday night, Flake had voted with Democrats to block a four-week stopgap spending measure and shutter the government.
Despite the spin offered by both parties, the tenor of the talks throughout the weekend seemed to reflect a …read more
Via:: The Atlantic
By Uri Friedman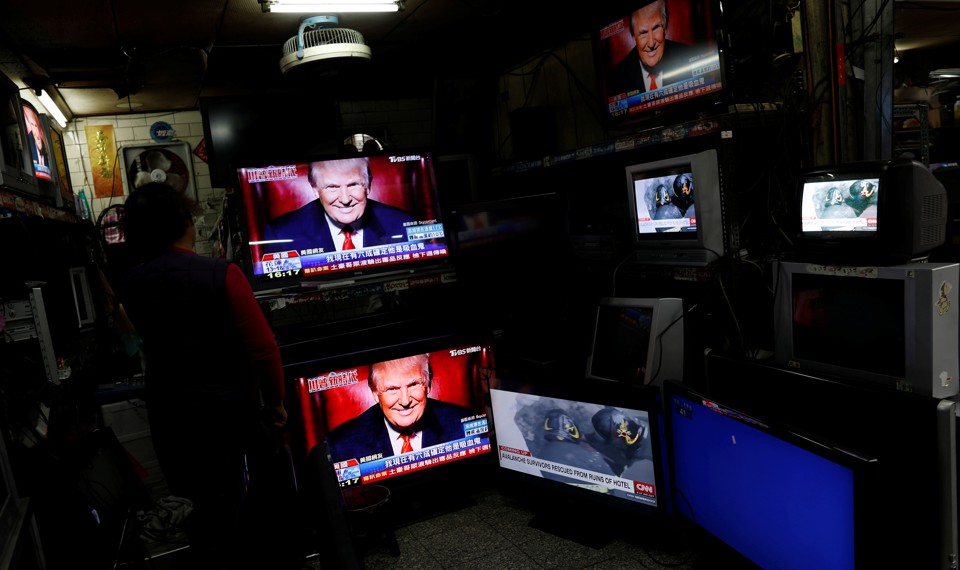 "In God We Trust," goes the motto of the United States. In God, and apparently little else.
Only a third of Americans now trust their government "to do what is right"—a decline of 14 percentage points from last year, according to a new report by the communications marketing firm Edelman. Forty-two percent trust the media, relative to 47 percent a year ago. Trust in business and non-governmental organizations, while somewhat higher than trust in government and the media, decreased by 10 and nine percentage points, respectively. Edelman, which for 18 years has been asking people around the world about their level of trust in various institutions, has never before recorded such steep drops in trust in the United States.
"This is the first time that a massive drop in trust has not been linked to a pressing economic issue or catastrophe like [Japan's 2011] Fukushima nuclear disaster," Richard Edelman, the head of the firm, noted in announcing the findings. "In fact, it's the ultimate irony that it's happening at a time of prosperity, with the stock market and employment rates in the U.S. at record highs."
"The root cause of this fall," he added—just days after polling revealed that Americans' definition of "fake news" depends as much on their politics as the accuracy of the news, and a Republican senator condemned the American president's Stalinesque attacks on the press and "evidence-based truth," and a leading think tank warned that America was suffering from "truth decay" as a result of political polarization and social media—is a "lack of objective facts and rational discourse."
It used to be that what Edelman labels the "informed public"—those aged 25 to 64 who have a college degree, regularly consume news, and are in the top 25 percent of household income for their age group—placed far …read more
Via:: The Atlantic
President Donald Trump speaks during an event to celebrate Congress passing the Tax Cuts and Jobs Act with Republican members of the House and Senate on the South Lawn of the White House December 20, 2017, in Washington, DC. (Photo: Alex Wong / Getty Images)
To US conservatives, the enemy within has always been the idle poor — specifically, poor people of color. Although a majority of welfare recipients are poor whites, the GOP calls for welfare reform and tax cuts for the wealthy — from Reagan to Trump — have always been dog whistles for white supremacy.
President Donald Trump speaks during an event to celebrate Congress passing the Tax Cuts and Jobs Act with Republican members of the House and Senate on the South Lawn of the White House December 20, 2017, in Washington, DC. (Photo: Alex Wong / Getty Images)
"Never tell anyone," my mother hissed, "that we're on welfare!" I sputtered, "Okay." She let go, angrily. People shuffled to the window where a tired man scanned their papers. That was 1982. Passing a poster of President Reagan, she shot him the middle finger. Later I realized, he rose to power by branding women like her "welfare queens."