Maine is developing a well-deserved reputation for cutting-edge progressive ballot initiatives. In 2016, voters approved proposals to raise the state's minimum wage, raise taxes on the wealthy to fund education, introduce ranked choice voting, and legalize marijuana.
The key force behind the state's progressive ballot initiatives, the Maine People's Alliance, has just launched a campaign to put another landmark issue on the 2018 ballot: universal home care for the elderly and disabled.
There's no question that such services are sorely needed — particularly in Maine, the state with the country's highest median age. Caring for this rapidly aging population is extremely costly. The median annual cost for home care is now more than $50,000. That's about on par with Maine's median income for an entire household.
Medicare does not cover the costs of in-home care and Medicaid reimbursement rates are so low that employers have difficulty finding workers willing to do this tough work for the meager wages they offer.
Universal home care would be a huge relief for family members facing impossible choices between paying bills for basic needs versus covering the exorbitant cost of services for their loved ones.
The big question is: how to pay for it?
The Maine People's Alliance proposal would raise the needed $132 million through a payroll tax increase of 1.9 percent on annual salaries and wages over $127,000 and a 3.7 percent tax on investment income above that same threshold.
In part, these taxes are designed to address the unfairness of the current cap on income subject to Social Security tax. That cap is now about $127,000, and so people who earn $1 million or even $100 million a year contribute no more to the nation's pension fund than those making $127,001.
The ballot initiative proposal would also address the fact that in Maine, …read more
Via:: Truthout
In spite of the fact that the UN International Atomic Energy Agency has certified eight times that Iran is meeting its obligations under the nuclear deal, Trump refused to certify Iran was in compliance, and he has decided the Iran deal is not in the United States' national security interests. Meanwhile, Trump is heavily influenced by Israel's government.
Israeli Prime Minister Benjamin Netanyahu speaks with President Donald Trump prior to the President's departure from Ben Gurion International Airport in Tel Aviv on May 23, 2017, in Jerusalem, Israel. (Photo: Kobi Gideon / GPO via Getty Images)
During his presidential campaign and throughout his nine-month presidency, Donald Trump has been fixated on ending the Iran nuclear deal, which he called "one of the worst and most one-sided transactions the United States has ever entered into."
Under the 2015 Joint Comprehensive Plan of Action (JCPOA), Iran agreed to curtail its nuclear program and in return, it received billions of dollars of relief from punishing sanctions.
Iran has allowed 24-hour inspections by officials from the UN International Atomic Energy Agency (IAEA). "Iran has gotten rid of all of its highly enriched uranium," Jessica T. Mathews wrote in the New York Review of Books. "It has also eliminated 99 percent of its stockpile of low-enriched uranium…. All enrichment has been shut down at the once-secret, fortified, underground facility at Fordow … Iran has disabled and poured concrete into the core of its plutonium reactor — thus shutting down the plutonium as well as the uranium route to nuclear weapons. It has provided adequate answers to the IAEA's long-standing list of questions regarding past weapons-related activities."
To read more stories like this, visit Human Rights and Global Wrongs.
Yukiya Amano, director general of IAEA, refuted Trump's …read more
Via:: Truthout
As raging wildfires in California scorch more than 200,000 acres — roughly the size of New York City — more than 11,000 firefighters are battling the blazes, and a number of them are prisoners, including many women inmates. We speak to Romarilyn Ralston with the California Coalition for Women Prisoners-Los Angeles Chapter, who is the program coordinator for Project Rebound at Cal State University. Romarilyn experienced 23 years of incarceration, and while she was incarcerated, she was a fire camp trainer and a clerk for the California Department of Forestry and Fire Protection. Reporter Jaime Lowe also joins us to discuss her New York Times Magazine report, "The Incarcerated Women Who Fight California's Wildfires."
Please check back later for full transcript.
Via:: Truthout
Gregory Katsas, nominee to be United States Circuit Judge for the District of Columbia Circuit, is sworn in during his confirmation hearing in the Senate Judiciary Committee on Tuesday, October 17, 2017. (Photo: Bill Clark / CQ Roll Call)
President Trump's first nominee to serve on the second most powerful federal court refused to unequivocally describe waterboarding as "torture."
Gregory Katsas — picked to fill a vacancy on the DC Circuit Court of Appeals — told Sen. Dick Durbin (D-Ill.) on Tuesday that the coercive technique was "likely torture, in many circumstances."
"I hesitate to answer the question in the abstract not knowing the circumstances or the nature of the program," Katsas told Durbin at his confirmation hearing before the Senate Judiciary Committee. He noted that waterboarding "has been abandoned."
Durbin shot back, claiming that it wasn't abstract and that the McCain Amendment, which was passed in 2006, expressly prohibited waterboarding.
President George W. Bush authorized the interrogation tactic, after launching the War on Terror, in the wake of the 9/11 attacks. The technique involves pouring water over a cloth placed on a blindfolded detainee's open mouth. It is designed to simulate drowning.
The so-called Senate Torture Report, overseen by Dianne Feinstein (D-Calif.), said in 2014 that the Bush waterboarding program "was physically harmful," and caused "convulsions and vomiting." One detainee was rendered "completely unresponsive, with bubbles rising through his open, full mouth."
"Internal CIA records describe the waterboarding of [alleged 9/11 mastermind] Khalid Shaykh Mohammad as evolving into a 'series of near drownings,'" the report also states.
Believing waterboarding was no longer up for legal discussion, Durbin asked Katsas: "Why is this still a matter in doubt?"
Katsas replied that the McCain Amendment didn't specifically bar waterboarding, but rather "cruel, inhuman, or degrading treatment."
"It clearly …read more
Via:: Truthout
The Yellowstone caldera has a lot of people on edge this week, apparently for good reason. For those not in the know, a caldera is the depression left in the ground after a supervolcano erupts. Yellowstone did so about 630,000 years ago, and the violence of that mighty explosion — the likes of which have never been seen by human eyes — made that gorgeous national park what it is today.
If Yellowstone decides to erupt, well, buy canned goods. An eruption won't be the continent-obliterating event depicted in the disaster flick 2012 (I'm sure Woody Harrelson will be fine), but it would be quite completely bad. Every crop within 500 miles in all directions at least will be buried in ash, and the sky will be last-book-in-the-Bible black until a good, stiff breeze picks up the ejecta cloud and drags it out over the Atlantic.
The good folks at the United States Geological Survey tell us not to worry, but people are worried anyway. An eruption at the Yellowstone caldera would be preceded by one if not several earthquakes, and there have been something like 800 earthquakes around the caldera in the last couple of weeks. Lots of smart people are saying no big deal, but if you hear a loud thud from the upper …read more
Via:: Truthout
One month after Hurricane Maria devastated Puerto Rico, we hear from longtime Puerto Rican independence activist Oscar López Rivera, who was released in May and is now in San Juan to visit with community members affected by Hurricane Maria. Until earlier this year, Rivera had been in federal prison for 35 years — much of the time in solitary confinement — after he was convicted on federal charges of opposing U.S. authority over the island by force. President Obama commuted his sentence in January.
Please check back later for full transcript.
Via:: Truthout
The contest to win Amazon's second headquarters is beginning to look uncannily like an episode of "The Bachelor." As the Oct. 19 deadline to submit proposals nears, mayors across North America are ardently wooing the retail and tech giant, with offerings ranging from video love notes to a giant saguaro cactus (one assumes that the traditional bouquet of roses would not have sufficed). Stonecrest, Georgia, has even offered Amazon its very own town.
Tulsa, Oklahoma's, offer is in keeping with what many cities appear to be saying: "Whatever it takes." By dangling 50,000 new jobs and $5 billion in economic investment, Amazon's "HQ2" is expected to draw over a hundred proposals, despite a price tag likely to exceed $3 billion.
However, several cities are opting out. In a Wall Street Journal editorial, San Jose, California, Mayor Sam Liccardo calls incentives a "bad deal for taxpayers," noting that often their expense is not recouped by the revenues they generate. The state of Minnesota plans to bid, but Governor Mark Dayton is reluctant to offer up much more than the Twin Cities' strong local workforce. Officials in Toronto also plan to promote the city's existing assets rather than giving cash, noting that subsidizing Amazon would be unfair to businesses that have set up shop without incentives.
For cities doing their homework, this question is at the forefront: Are giant subsidies the best and highest use of economic development dollars?
Good Jobs First, the nation's leading watchdog on corporate subsidies, estimates that state and local governments spend $70 billion a year on cash handouts and tax abatements, mostly to big businesses. It's an inefficient investment. Their report Smart Skills versus Mindless Megadeals finds that small …read more
Via:: Truthout
In March of this year, State Street Global Advisors unveiled the "Fearless Girl," a statue of a little girl installed to face Wall Street's famous "Charging Bull" statue. Her defiance was aimed at financial culture's historical exclusion of women in the financial industry, especially in leadership positions.
In early October, its parent company, State Street Corporation, quietly settled allegations that it had been paying female employees less than their male counterparts, agreeing to award US$5 million in back pay.
Then, a week later, a series of explosive articles revealed that Hollywood executive Harvey Weinstein may have engaged in a decades-long pattern of abusing and harassing women. Weinstein, the reports noted, had been a prominent donor to causes that address gender inequality, especially in the entertainment industry.
In both cases, a public-facing feminism ended up essentially serving as a front, a superficial sheen that distracted from systemic sexism. What does feminism mean if it functions as an alibi for structural discrimination? And how powerful are the forces that oppose it?
Popular Feminism and Popular Misogyny
Together, these two stories tell an even bigger tale of a national dynamic that I call "popular feminism" and "popular misogyny."
Popular feminism refers to a sort of mainstream, corporate-friendly feminism. It announces itself on self-help blogs that implore women to "be confident in the workplace" and on aspirational Tumblr pages that remind women that they are beautiful despite societal norms that tell them that they're not. In this way, popular feminism is "safe" — it implicitly encourages more women to work within a system that is already …read more
Via:: Truthout
Scholars and historians have argued for years about whether the US's own regime of racial oppression in any way inspired the Nazis. In this interview, author James Whitman discusses the meticulous record of a meeting of top lawyers in Nazi Germany, which revealed a deep interest in American race policies.
Belgian Jewish star. (Photo: DRG-fan, Wikimedia Commons | CC BY-SA 4.0)
To get to the core of race in America today, read this new book by James Whitman. Whitman is the Ford Foundation Professor of Comparative and Foreign Law at Yale Law School. Prepare to be as startled as this respected legal scholar was when he came upon a meticulous record of a meeting of top lawyers in Nazi Germany after Hitler's rise to power. Not only did those lawyers reveal a deep interest in American race policies, the most radical of them were eager advocates of using American law as a model. Scholars and historians have argued for years about whether American's own regime of racial oppression in any way inspired the Nazis. Not only does Whitman throw a bright light on the debate, to this reader he settles it once and for all. Carefully written and tightly reasoned, backed up every step of the way with considered evidence and logic, Whitman reminds us that today is yesterday's child, and that certain strains of DNA persist from one generation to another.
Bill Moyers: You begin the book with a meeting of Nazi Germany's leading lawyers on June 5, 1934, which happens, coincidentally, to be the day I was …read more
Via:: Truthout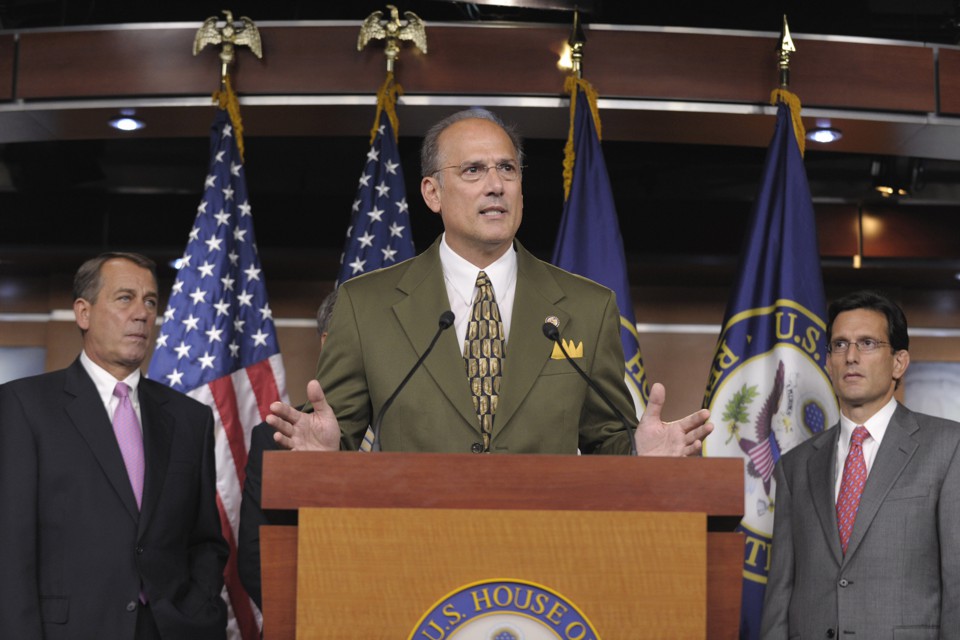 Today in 5 Lines
Representative Tom Marino withdrew his name from consideration to be the White House drug czar following the publication of a news report that revealed he had tried to hinder government efforts aimed at combatting the opioid epidemic. Senators Lamar Alexander and Patty Murray reached a bipartisan deal to stabilize Obamacare, which President Trump supported as a temporary fix. After Senator John McCain condemned the "half-baked, spurious nationalism" in America's foreign policy, Trump said he would "fight back." A federal judge in Hawaii blocked the third version of Trump's travel ban the day before it was slated to take effect. The Defense Department launched an investigation into the deaths of four U.S. soldiers in Niger.
---
Today on The Atlantic
Commanding Without Policy: President Trump's main achievements in office thus far have not hinged on any policy proposals of his own. Instead, he's largely focused on dismantling Obama-era policies. (David A. Graham)

LBJ, Culpable Commander in Chief: From The Butler to Selma, Hollywood has tended to emphasize President Lyndon B. Johnson's civil-rights legacy. But that ignores the recklessness with which he handled the Vietnam War, argues Julian E. Zelizer.

Claiming Victories: Is Trump responsible for the Dow hitting an all-time high? Despite his tweets, writes Gillian B. White, the president has a very small role in the stock market's success.
Follow stories throughout the day with our ), Lena Felton (@lenakfelton), and Taylor Hosking (@Taylor__Hosking)
Via:: <a href=http://feedproxy.google.com/~r/AtlanticPoliticsChannel/~3/sLN1dRFKPiU/ class="colorbox" title="The Atlantic Politics & Policy Daily: The Fault in Our Czars" rel=nofollow>The Atlantic