In the coverage that followed the recent meeting of the Presidential Advisory Commission on Voter Integrity, the media focused on the testimony of John Lott Jr., a gun researcher who argued that the Bureau of Alcohol, Firearms and Tobacco's background check system should be used to check voter eligibility. And while Lott's testimony was worthy of the coverage — if not just for its ridiculousness, but also for its inaccuracy — this focus diverted attention from Kris Kobach's continued underlying goal: to use this commission as a tool to restrict voting across the entire country.
To see more stories like this, visit Moyers & Company at Truthout.
From the very start of this commission, Kris Kobach — Kansas' Republican Secretary of State and vice chair of the commission — has made voter restriction his main objective. On June 28, as one of the panel's very first actions, Kobach sent letters to the secretaries of state in all 50 states and the District of Columbia, asking them to compile and send extensive data on their voters. He requested not just names and addresses, but also other deeply personal information, such as dates of birth, Social Security numbers, political party affiliation and every election voted dating back to 2006. While Kobach has not made his intended use for the data fully clear, it is likely that he will use this data to try to implement a national voter roll purge system, similar to his Kansas-run Interstate Voter Registration Crosscheck Program, a program known for removing hundreds of correctly registered voters from the rolls.
But in making this request, Kobach got something he didn't expect: pushback from …read more
Via:: Truthout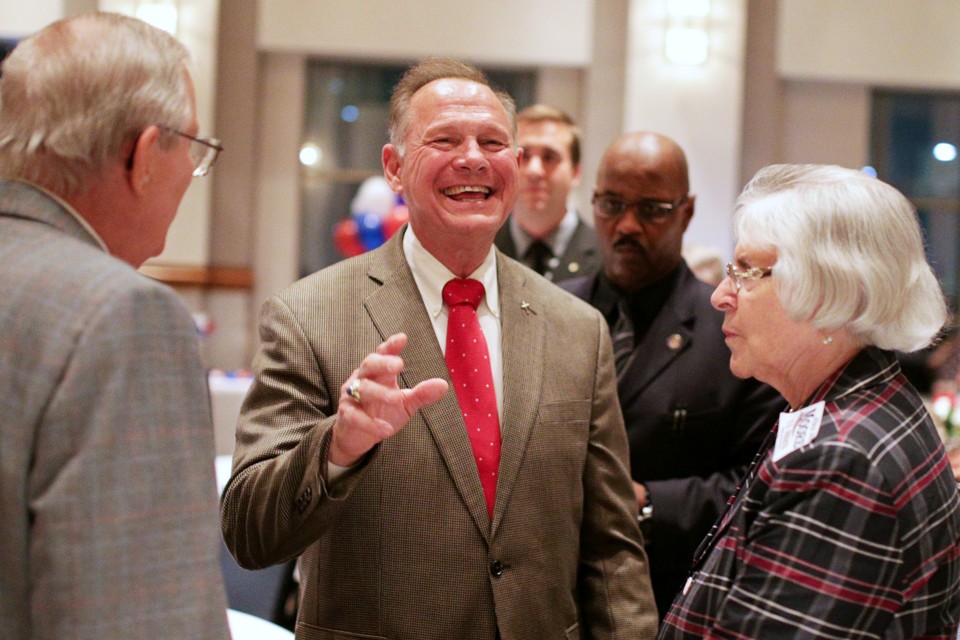 Both sides of my family hail from Alabama: my mother's people from the coal mining country of Walker County in the north and the tiny burg of Union Springs farther south; my dad's, from a speck of a cotton-mill town just east of Montgomery.
It has been ages since I lived in the state, but I still have scads of relatives scattered across it. I harbor tribal loyalty in the Auburn-Alabama football rivalry (War Eagle!), as well as a weakness for green-bean funeral casserole. And I invariably feel a pang when some not-so-great aspect of my ancestral homeland winds up as a cautionary tale on the front pages of the national media. (Case in point: last year's Washington Post look at how opioids have become the currency of choice in the town where my grandma grew up.)
But then Alabama goes and does something screwy like nominate Roy Moore for Senate, and I finding myself banging my forehead on my desk and shrieking at the dog, "What the hell?!"
Yes. I am aware of the populist rage afoot in the land. I did not need Hillbilly Elegy to tell me about the alienation that working-class whites—especially in rural, economically challenged areas—feel toward the sneering, culturally blue swaths of the nation. (That said, the book was a ripping good read.) I am all too familiar with the bubbling stew of racism, sexism, homophobia, Islamophobia, nationalism, antisemitism, anti-intellectualism, anti-establishmentism, anti-governmentism, anti-mediaism, and revanchism that Donald Trump has ushered center stage in American politics.
But seriously, Roy Moore?
Alabama is a deep-red state, and its elected officials should reflect that disposition. But Moore is no garden-variety outsider raring to drain the swamp. Nor is he a traditional conservative committed to keeping America safe for religion, guns, and low marginal-tax rates. Or …read more
Via:: The Atlantic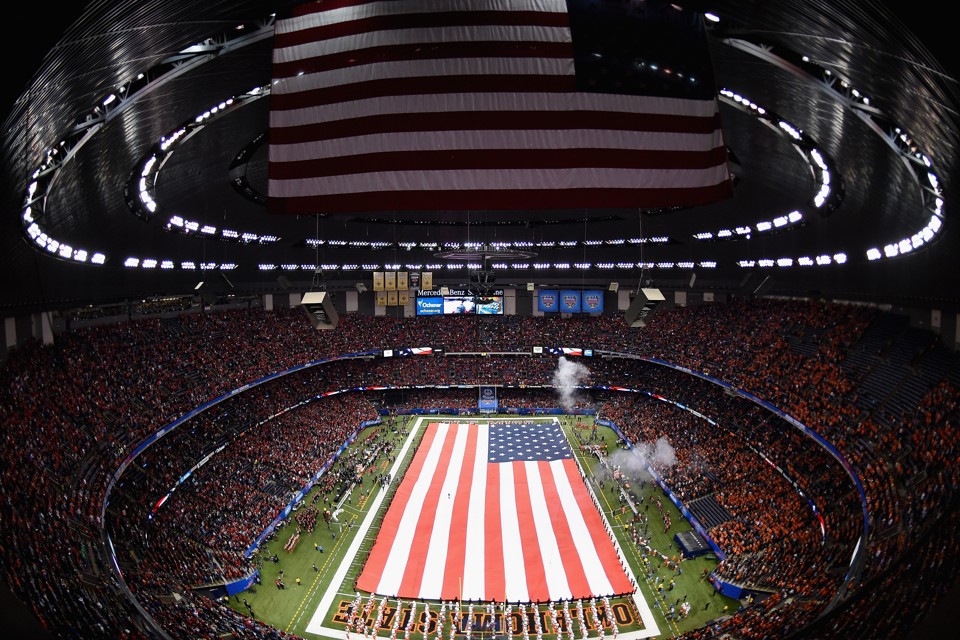 Let the legend tell it, and America didn't truly integrate until Bear Bryant told it to. In a dominant career, perhaps Bryant's most prominent feat as a coach was his endeavor to add black players to the University of Alabama Crimson Tide football team—an endeavor that pitted him squarely against the notorious segregationist, Alabama Governor George Wallace. Bama and the vaunted Southeastern Conference to which it belonged were some of the last refuges of Jim Crow in the country, until Bryant scheduled a 1970 game against the integrated University of Southern California. The humiliation of the subsequent loss, as the story goes, would open one of the last closed doors in the South and in the country.
Of course, that version of the story is heavily fictionalized. The USC game was neither the first game Bryant's team played against an integrated opponent, nor did the game actually spark integration at Bama or end segregation in the sport as a whole, let alone the country. But the episode has served as a founding myth for the phenomenon of modern football, a game that now extends beyond sports. Ever since, football has grown as a central institution in American life; on its face a truly multi-ethnic undertaking, one where common ground can be found between the lines and politics can be forsaken at least for a few hours. That facade has been revealed as a fiction; both in the protests of Colin Kaepernick and teams around the league, and in the increasingly vehement response from people like President Donald Trump.
Since integration, one hidden rule has bound the sport. Football would become America's game, but at a price. Anyone would be welcomed onto the playing field—and in short order there would be predominantly black teams—but "politics" would not be allowed. With the …read more
Via:: The Atlantic
Donald Trump addresses the United Nations General Assembly at UN headquarters, September 19, 2017, in New York City. (Photo: Drew Angerer / Getty Images)
When Donald Trump threatened to "totally destroy North Korea" in his address to the United Nations General Assembly, he threatened to commit genocide, crimes against humanity and the war crime of collective punishment. It was a clear violation of both the UN Charter, which prohibits threats and the preemptive use of force, and international humanitarian law.
Donald Trump addresses the United Nations General Assembly at UN headquarters, September 19, 2017, in New York City. (Photo: Drew Angerer / Getty Images)
Donald Trump threatened to "totally destroy North Korea" in his address to the United Nations General Assembly on September 19. That threat violates the UN Charter, and indicates an intent to commit genocide, crimes against humanity, the war crime of collective punishment and international humanitarian law. Moreover, a first-strike use of nuclear weapons would violate international law.
By threatening to attack North Korea, Trump is endangering the lives of countless people. In the past, he has indicated his willingness to use nuclear weapons and Kim Jong-un has threatened to retaliate. The rapidly escalating rhetoric and provocative maneuvers on both sides has taken us to the brink of war.
Trump's threat prompted North Korean foreign minister Ri Yong-ho to state, "Given the fact …read more
Via:: Truthout
An Anti-Fascist flag is waved at the Techno Parade in Berlin, Germany, July 30, 2016. (Photo: Angela Schlafmütze)
At a recent anti-hate rally in Berkeley, Joey Gibson, leader of the extreme right-wing, white supremacist group, Patriot Prayer, strolled directly in front of me — his three burly bodyguards in tow. A few people nearby pointed him out, shouting his name.
I had an immediate visceral reaction to the sight of this man, whom I consider to be a neo-Nazi. To my eyes, Gibson and his men were angling for conflict; their swagger left no doubt. And I stood there shaking, my homemade sign in hand. "Hate speech leads to Holocaust," it read.
I am an 80-year-old Holocaust survivor.
We learned that the young men and women around us, dressed in all black, were trained not to engage in confrontations, except to protect demonstrators like us if we were attacked by white supremacists like Gibson.
It was my first encounter with the Antifas, the young militant antifascists who have been vilified in some of the media for their tactics. So even though I was afraid of Gibson and his thugs, I felt comforted, not by the presence of any police officer that day, but by the presence of the Antifas. I feel gratitude to these young people for being our first line of defense, for being willing to stand up to the hateful actions of neo-Nazis and white nationalists, like Gibson.
I know from experience what it feels like not to feel protected. And I've seen first-hand the impact hate …read more
Via:: Truthout
Constitutional scholars may disagree on whether bipartisan legislation to prevent President Trump from ousting Robert Mueller would hold up in court, but Congress has several options for protecting Mueller and getting to the bottom of Russian election meddling if lawmakers decide to take on Trump.
Former FBI Director Robert Mueller (center) is surrounded by security and staff as he leaves a meeting with senators at the US Capitol June 21, 2017, in Washington, DC. Special Counsel overseeing the investigation into Russian interference in the 2016 presidential elections, Mueller was on Captiol Hill to meet with members of the Senate Judiciary Committee. (Photo: Chip Somodevilla / Getty Images)
Congress has options for protecting Robert Mueller and his special counsel investigation into the Trump campaign and Russian election interference, even if bipartisan legislation designed to prevent Mueller from being fired by the Trump administration fails to become law or is struck down by the courts.
At a Senate Judiciary Committee hearing on Tuesday, September 26, a panel of constitutional scholars gave differing opinions on whether two bills that would require a judicial review of a Justice Department decision to sack Mueller or any other special counsel would survive legal challenges, if Congress manages to pass them in the first place.
Lawmakers introduced the bills in August after Trump unleashed angry tweets and other comments that left pundits wondering if the president would order the Justice Department to oust Mueller, just as the president fired former FBI Director James Comey. Trump has since said that he wouldn't dismiss Mueller, although observers say the unpredictable president <a class="colorbox" rel="nofollow" …read more
Via:: Truthout
(Photo: Francisblack / Getty Images)
Republican leaders in the House have finally set a date to consider a bill reauthorizing a program providing health care assistance to tens of millions of Americans, specifically children.
Unfortunately for the roughly 36 million people who currently rely on the Children Health Insurance Program (CHIP), the date scheduled for markup of the legislation falls after the initiative expires.
The House Energy and Commerce Committee announced it would consider CHIP reauthorization on October 4, three days after it sunsets. So far details about the legislation have not been publicly released, including how long the program would be extended for and what sort of cuts the GOP would demand as potential funding offsets.
CHIP was created in 1993, and provided funding to states to help low-income families with children afford health insurance coverage. It was last reauthorized in 2009, as one of President Obama's initial legislative accomplishments. The program was expanded at the time to cover four million more people.
While CHIP does enjoy bipartisan support, congressional Republicans' laser-focus on repealing the Affordable Care Act this year has left reauthorization tumble down the legislation calendar, now after its slated termination.
The Senate hasn't scheduled any hearings or votes on their own reauthorization package.
Despite the looming expiration, most states have a supply of CHIP-funding that they won't exhaust until next year. The Hill reported, however, that Minnesota could exhaust its funding immediately.
In a letter to its congressional delegation, the state's health department said it would have to resort to "extraordinary measures" to maintain CHIP coverage for its residents.
Three states and Washington, DC also informed their delegations that they could see CHIP funding dry up before the year's end.
Via:: Truthout
This episode discusses the closing of 6,400 retail stores in 2017, the start of a decline in US housing, how 800 major corporations oppose Trump on DACA, US child poverty rates, how US to relies on banks' "self-reporting" of their misdeeds and significance of the California Disclose Act. This episode also includes an interview with investigative journalist Bob Hennelly on the Local 3 strike in New York and its importance to the US labor movement today.
To see more stories like this, visit Economic Update: Your Weekly Dose of Revolutionary Economics
To listen in live on Saturdays at noon, visit WBAI's Live Stream
Economic Update is in partnership with Truthout.org
Your radio station needs Economic Update! If you are a radio station, check this out. If you want to hear Economic Update on your favorite local station, send them this.
Visit Professor Wolff's social movement project, democracyatwork.info.
Permission to reprint Professor Wolff's writing and videos is granted on an individual basis. Please contact p<span …read more
Via:: Truthout
Good news or fake news? Acting Homeland Security Secretary Elaine Duke and the Trump administration defend their response to the unfolding humanitarian crisis in Puerto Rico, where many of the 3.5 million residents remain without electricity and are desperate for fresh water, food and other supplies. We speak with Laura Moscoso, a data journalist at the Puerto Rico-based Center for Investigative Journalism. She says the death toll is much higher than the government reports, noting, "Our phones have been ringing with many testimonies."
TRANSCRIPT
AMY GOODMAN: We begin today's show with the unfolding humanitarian crisis in Puerto Rico. Nine days after Hurricane Maria destroyed much of the island's infrastructure, many of its three-and-a-half million residents remain without electricity, are desperate for fresh water, power, food and other supplies. At least 10,000 shipping containers that hold aid are stockpiled at the port, overwhelming the 4,400 U.S. military members who are scrambling to distribute to rural areas where much of the infrastructure is in shambles.
On Capitol Hill Thursday, Democratic lawmakers accused President Trump of neglecting millions of U.S. citizens in Puerto Rico and the U.S. Virgin Islands. New York Congressmember Nydia Velázquez, who was born in Puerto Rico, said the White House showed far more urgency responding to Hurricanes Harvey and Irma, which devastated parts of Texas and Florida—two states that voted for Trump.
REP. NYDIA VELÁZQUEZ: Unfortunately, this administration's response has been inexcusably slow and ineffective. … To the people who are collapsed in the airport, trying to get off the island; to those of you in houses without roofs, waiting for the power to come back, worried you are running out of drinking water; to those on the mainland who are worried about their loved ones on the island, let me say this: We're going to keep fighting for you. Do …read more

Via:: Truthout