Judge Neil Gorsuch, Donald Trump's nominee for the Supreme Court, while testifying on the third day of his confirmation hearing before the Senate Judiciary Committee on Capitol Hill, in Washington, DC, March 22, 2017. (Photo: Eric Thayer / The New York Times)
Janine Jackson: The Washington Post ran an op-ed last month by a Princeton professor headlined "Ignore the Attacks on Neil Gorsuch. He's an Intellectual Giant — and a Good Man." But at that point, especially, you had to ask — what attacks?
Well, it's somewhat different now, with an announcement on March 28 that Democrats may filibuster the nomination. But for media, it's all over. The New York Times says Gorsuch will probably be confirmed, the Chicago Tribune said he's earned it, USA Today says he "sailed through."
But has the public learned enough about the man who could help shape laws that affect us all? Dan Goldberg is legal director at the group Alliance for Justice; he joins us now by phone from Washington, DC. Welcome to CounterSpin, Dan Goldberg.
Dan Golberg: Thank you very much for having me.
Well, a number of people were put off by his coyness and his dancing around questions — and they were off-putting. But Alliance for Justice, along with other groups, have been producing bulletins on Gorsuch's record, outlining a number of serious concerns about the kinds of justice he would be, beyond that smarminess. And there are quite a lot of those points of concern. You can start anywhere; what are some of the things that trouble you most about his judicial record?
You rightly pointed out how little information Judge Gorsuch was willing to give the American people about his record, about where he stands …read more
Via:: Truthout
A for-profit company that runs group homes for the developmentally and intellectually disabled has changed its name from AdvoServ to Bellwether Behavioral Health, following ProPublica articles on three teenagers' deaths and staff's frequent use of physical holds and mechanical restraint devices.
In response to questions from ProPublica, the company said that the name was not the only facet of the company to change.
"Over the past year, a completely new leadership team, with a different management philosophy, initiated a series of transformational changes designed to fundamentally alter the trajectory of the company," company executives said March 17 in an emailed statement from a spokesman, Brian Burgess. "The new name — Bellwether Behavioral Health — is just an outward reflection of the fundamental changes designed to deliver better outcomes for the individuals in our care."
Burgess said that the company would not elaborate on the changes in the company's operations or management philosophy. Reflecting the shift in leadership, all but one of the six top executives listed on its website were hired last year. A New York private equity firm, Wellspring Capital Management, owns the company.
It's not clear when the company made the name change, which surfaced on its website earlier this year. No press release was circulated. The top hits for a simple Google search for Bellwether Behavioral Health are basic company information and job postings, and don't include any media coverage about AdvoServ.
The company runs homes for disabled adults and youth with behavioral issues in Delaware, Florida, Virginia and New Jersey. In decades past, people with similar disabilities were often confined in state-run asylums. States eventually shuttered most of those institutions because of deplorable conditions, but some community-based providers like AdvoServ that filled the gap have quietly amassed their own track records of mistreatment. In September 2015, AdvoServ …read more
Via:: Truthout
Environmental and Indigenous groups are digging in for a long fight against Trump, who is working to expand oil infrastructure and undo federal initiatives to mitigate climate disruption. Already, the administration faces two lawsuits over reversing Obama-era climate rules and issuing a permit for the Keystone XL pipeline.
Activists display a mock Keystone XL pipeline at a protest in Washington, DC, November 6, 2011. (Photo: Tarsandsaction)
Environmental and Indigenous groups filed two lawsuits yesterday challenging the Trump administration's recent decision to issue a cross-border permit for the Keystone XL pipeline that would bisect the nation and carry carbon-heavy crude oil from the tar sands of Canada to the Gulf of Mexico.
Last week, President Trump issued a ceremonial "presidential permit" to TransCanada, the company behind the pipeline, and instructed the State Department to reverse a 2015 decision by the Obama administration to deny a federal permit needed for construction. The State Department quickly issued the permit, which is now being challenged by environmental groups.
Tom Goldtooth, director of the Indigenous Environmental Network, one of the groups challenging the permit, said President Trump is breaking "established environmental laws" and treaties with Native Americans in his attempt to push the pipeline through.
"Indigenous peoples' lands and waters are not here to be America's environmental sacrifice zone," Goldtooth said in a statement.
Opposition to fossil fuel infrastructure projects like major oil pipelines has become central to the movements for climate justice and Native rights. Over the past seven months, the Native-lead resistance organized by the Standing Rock Sioux and others to the Dakota Access Pipeline in North Dakota inspired people to action around the country and the world, and resistance to the pipeline's southern leg in Louisiana has also taken form.
The Indigenous Environmental …read more
Via:: Truthout
It has become evident that efforts to expand and retool health care services under the Affordable Care Act are necessary but not sufficient to change health outcomes for vulnerable communities — hence more outside-the-box approaches are needed. If Obamacare in its entirety is repealed, these innovative efforts could also fall by the wayside.
(Photo: Skeeze)
It's a perfect day in Pensacola, Florida, and the Blue Angels, based at the nearby air station, are doing their weekly exercises over the Gulf. A drive inland along Palafox Street starts at the upscale town square and passes freshly painted colonials, esthetic surgery clinics, boutiques, and banks. But all this changes at Cervantes Avenue: Suddenly the trappings of wealth disappear, replaced by foreclosure signs, dialysis centers, thrift stores, and check-cashing outlets.
This is still Pensacola, but not the one that snowbirds and tourists see. As Sandra Donaldson, a native of this second Pensacola, explains, "There is an invisible divide between here and there."
Blocks later, I park in front of a professional brick building, not unlike community clinics that I have worked in during my medical career. Inside, I am surprised to find that Chandra Smiley, executive director for the Escambia Community Clinic network, is working right next to the waiting area busy with coughing patients, beeping toys, and CNN blaring on a wall-mounted TV.
"Being this close to the patients helps me understand what's really going on," Smiley says. "I don't want this to be just another community clinic; I want it to be the community's clinic." Her emphasis on the possessive might at first pass seem like an unimportant distinction, but, in fact, it represents radical thinking. Traditionally, safety net clinics like Escambia offer medical services to low-income and underserved patients who access their facilities, but …read more
Via:: Truthout
(Photo: WerbeFabrik)
This has been a tumultuous week for healthcare reform. First there was the pleasantly quick defeat of the American Health Care Act in the House of Representatives Friday afternoon. Then, that evening, Senator Sanders spoke at a town hall in Vermont with Senator Pat Leahy and Representative Peter Welch where he announced that he would introduce a Medicare for All bill. Medicare for All and Bernie supporters lit up social media with their excitement over the announcement. This should have been great news, but it wasn't exactly.
Over the weekend, more information was revealed in a series of interviews with Sen. Sanders. Sunday, he said on CNN that single payer legislation wouldn't have the votes, so the first priority will be to improve the Affordable Care Act (ACA) with a public insurance, called a public option, and possibly lowering the age of Medicare eligibility to 55.
There are a number of reasons why this isn't the time for tinkering with the ACA. We have a healthcare crisis now and the means to solve it. The ACA is fundamentally flawed and cannot be tweaked into a universal program. And Sanders' proposals are exactly the same ones used in 2008-10 to divide and weaken the movement for National Improved Medicare for All. We can't be fooled into going down that path again.
The Current Crisis and Its Solution
Right now in the United States, almost 30 million people have no health insurance. On top of that, tens of millions of people who have health insurance can't afford health care. When people experience a serious accident or illness, they face a stark choice: seek care and risk financial ruin or go without it and risk disability or death. Hundreds of thousands of families go bankrupt each …read more
Via:: Truthout
By Matt Ford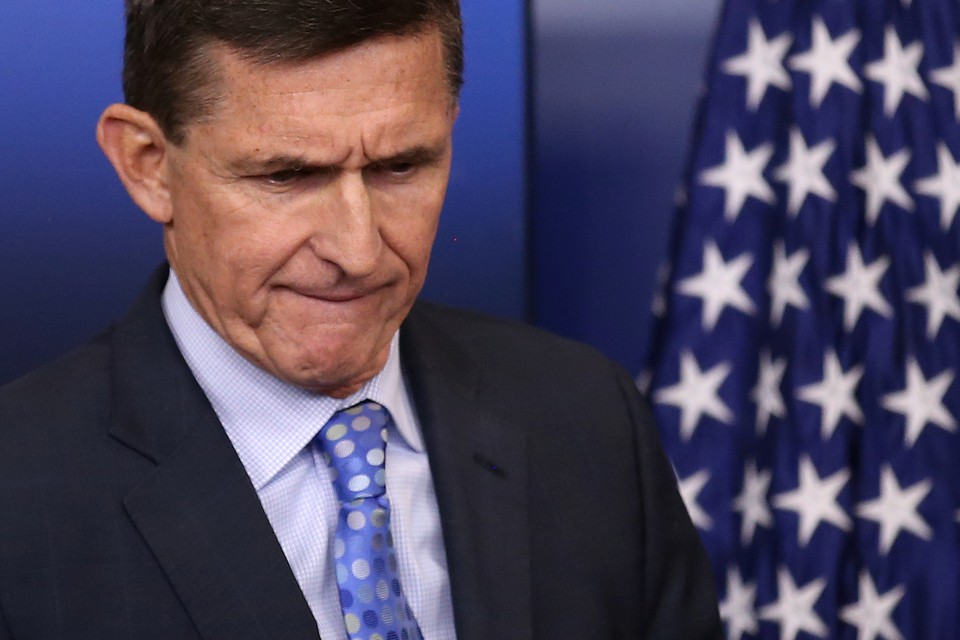 Why does someone request immunity from prosecution before speaking with federal investigators? That question will likely consume Washington in the weeks ahead after Thursday night's bombshell Wall Street Journal report about former National Security Advisor Michael Flynn.
According to the Journal, Flynn is seeking an immunity deal from the FBI and the congressional intelligence committees in exchange for an interview, a potentially ominous move for a Trump administration struggling to move past the Russian influence allegations. What Flynn would discuss with investigators if granted immunity is unknown. According to the Journal, neither FBI investigators nor the congressional committees have accepted his offer so far.
A cryptic statement by Robert Kelner, Flynn's attorney, also provided more questions than answers. "General Flynn certainly has a story to tell, and he very much wants to tell it, should the circumstances permit," Kelner said. "Out of respect for the Committees, we will not comment right now on the details of discussions between counsel for General Flynn and the House and Senate Intelligence Committees, other than to confirm that those discussions have taken place."
A request for immunity isn't an admission of guilt or wrongdoing. But it typically isn't offered by someone who doesn't fear criminal prosecution of some kind. The Journal previously reported FBI agents had questioned Flynn in January shortly after the Trump administration denied he had spoken with Russian Ambassador Sergey Kislyak the previous month. While the precise nature of that interview is unknown, it is a federal crime to lie to the FBI during a criminal investigation.
But the move could also be a purely prophylactic measure. "Not withstanding his life of national service, the media are awash with unfounded accusations, outrageous claims of treason, and vicious innuendo directed against him," Kelner said. "He is now the target of unsubstantiated public demands by …read more
Via:: The Atlantic