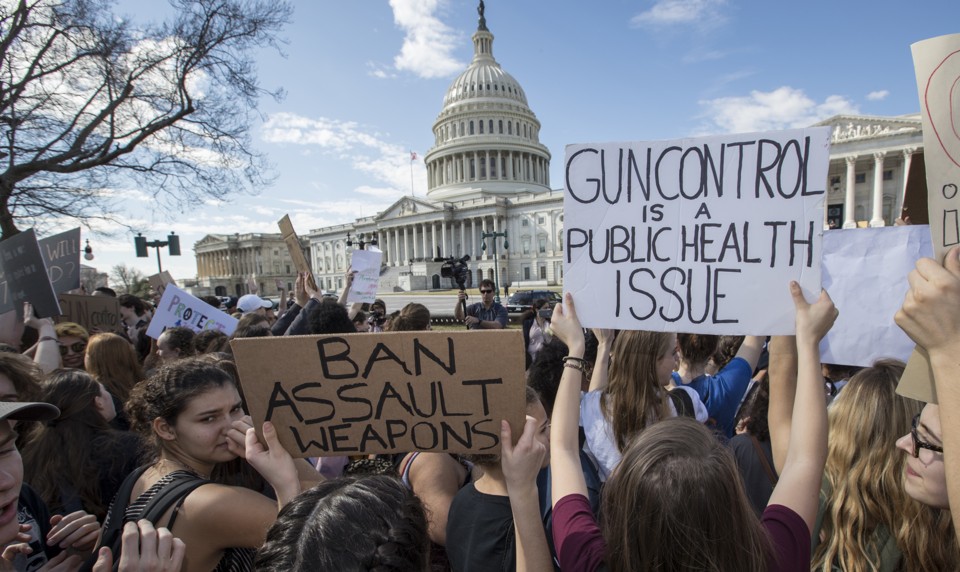 The shifting geography of the electoral battlefield is providing gun-control advocates their best opportunity in years to tilt the balance on the issue in Congress.
Since the early 1990s, the National Rifle Association has sustained an impregnable congressional blockade against new gun-control measures. But the weakest link in that chain has always been the Republican-held suburban seats in the House of Representatives, where many voters support reasonable limits on gun access.
Even before the mass shooting at a Parkland, Florida, high school last week, Donald Trump's unpopularity with college-educated voters was pushing those seats to the center of the midterm battle for control of the House. Now, the increased attention to gun issues could widen the wedge between suburban Republicans and the white-collar voters already recoiling from Trump's tempestuous presidency.
"Where it coincides with the political realignment that's occurring under Trump, the gun issue puts at risk a lot of these Republicans who have represented … suburban districts," said Peter Ambler, the executive director of Giffords, the gun-control advocacy group founded by former Representative Gabrielle Giffords.
During his first term, then-President Bill Clinton overcame the NRA's resistance to pass the 1993 Brady bill mandating background checks for most gun sales and the 1994 ban on assault weapons. Since then, two major dynamics have tilted the balance in the House toward the NRA and its allies.
The most visible change has been the GOP's success at ousting Democrats in dozens of rural and small-town districts and replacing them with pro-gun-rights Republicans. But "visible" doesn't necessarily mean "dispositive": The Democrats' rural losses didn't change the legislative balance as much as commonly assumed, because most of the Democrats who formerly held those seats also voted against gun control. In 1993, 69 House Democrats opposed the Brady bill; in 1994, 77 opposed the assault-weapons ban. The rural realignment …read more
Via:: The Atlantic
By Garrett Epps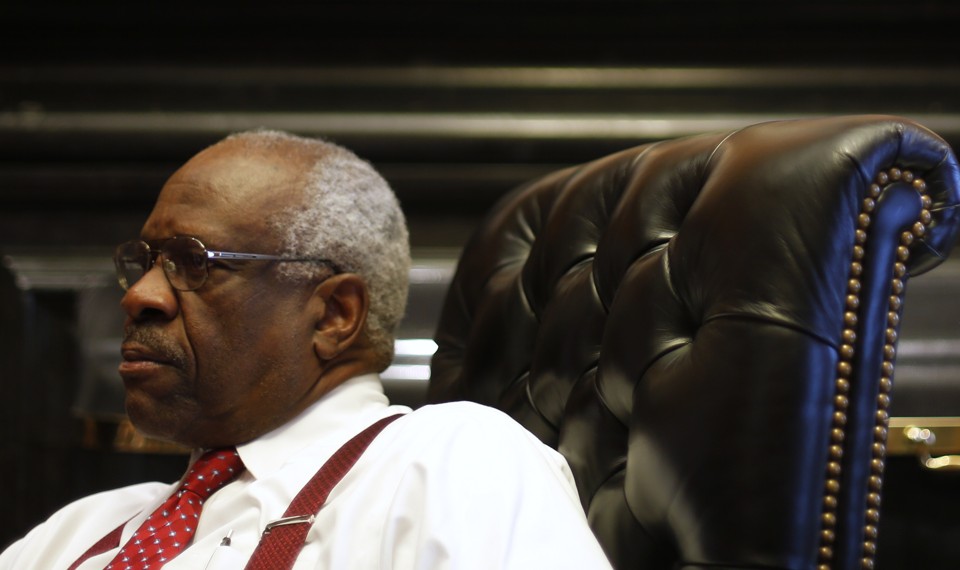 Never let it be said that Justice Clarence Thomas is overly concerned with appearances. Witness his release of a passionately pro-gun opinion, less than a week after a school shooting took 17 lives at Marjorie Stoneman Douglas High School in Parkland, Florida.
As near as I can tell, only two subjects excite this most phlegmatic of justices: the death penalty and the Second Amendment's "right to bear arms." I was present in Court two years ago when Thomas broke his 11-year silence on the bench—to ask Assistant U.S. Solicitor General Ilana Eisenstein why a misdemeanor conviction for domestic abuse should deprive the abuser of the right to possess firearms: "Can you think of another constitutional right that can be suspended based upon a misdemeanor violation of a state law?"
The quick-witted Eisenstein responded that Congress based the law on a record showing that "individuals who have previously … battered their spouses, pose up to a six-fold greater risk of killing, by a gun, their family member."
But that answer didn't satisfy Thomas. The following June, when the Court decided, 6 to 2, that Congress could outlaw gun possession by abusers, Thomas dissented, writing, "Under the majority's reading, a single conviction under a state assault statute for recklessly causing an injury to a family member—such as by texting while driving—can now trigger a lifetime ban on gun ownership. … We treat no other constitutional right so cavalierly." (Justice Sonia Sotomayor joined Thomas's dissent as to the proper reading of the statute; but she refused to sign on to the section complaining that laws restricting gun ownership by abusers venture into "constitutionally dangerous territory.")
Yesterday's opinion was a dissent from the high court's refusal to review California's 10-day waiting period for purchase of a firearm. A district judge had struck the order down, in …read more
Via:: The Atlantic