The new issue of The Atlantic has a long piece by me called "The Reinvention of America." It's different from, but tied to, the publication in two weeks of a book by my wife, Deb, and me called Our Towns: A 100,000-Mile Journey into the Heart of America.
The main contention of the Atlantic piece is that at a time of genuinely serious problems for the country, from economic polarization to the opioid disaster, and of near-historic crisis in national-level government ("near" historic because this is still not 1861-1865), city-by-city across the country many Americans feel as if they direction of personal, economic, and public life is positive rather than backward.
A flood of response has come in, which I'll begin sampling from over the next few days. To start off, here are two related notes, from the Great Plains states. The first is from a man I also quoted last year, about locally based efforts at land conservation (at a time when national policy is headed in the opposite direction). He is William Whitney, of the Prairie Plains Resource Institute in Aurora, Nebraska. Aurora is a small town in south central Nebraska, about 20 miles east of the Grand Island. Deb and I were in Grand Island several times during our travels; we've not yet been to Aurora, but hope to go soon.
William Whitney writes:
I can attest to what you say in your article on localization in America.

It is happening in Aurora, Nebraska, my home town to which my wife and I returned 40 years ago. And across the Great Plains in various ways.

I think the so-called millennials have an energizing effect. Life is still hard for people, and improvising is a critical ingredient, but the rural Nebraska towns and small cities, such as Aurora (pop. 4,500) …read more

Via:: The Atlantic
By J.M. Berger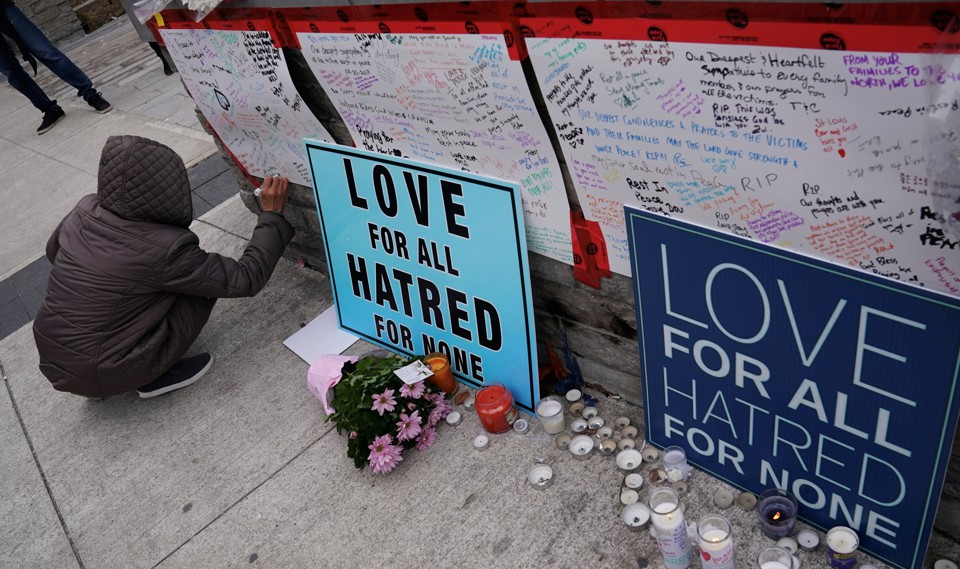 Two mass murders took place within 48 hours this week. Both attackers were adherents of extremist ideologies. Both terrorized people. But one of these two attacks was clearly terrorism, and one was apparently not. What's the difference?
Early Sunday morning, Travis Reinking walked into a Tennessee Waffle House wearing nothing but a jacket and started shooting, killing four and wounding several more. Early reporting indicates that Reinking had a history of apparent mental illness. But Reinking also identified himself as a sovereign citizen, an antigovernment movement associated with more than 100 acts of violence and dozens of deaths over the last decade and a half.
On Monday afternoon, 25-year-old Alek Minassian drove a rented van into dozens of Toronto pedestrians, killing 10 and wounding 13. It soon emerged that he was an adherent of the so-called "incel" movement, short for "involuntarily celibate," a term co-opted by online adherents of an anti-woman ideology whose primary grievance is that women aren't having sex with them. Minassian posted on Facebook moments before starting his rampage:
Private (Recruit) Minassian Infantry 00010, wishing to speak to Sgt 4chan please. C23249161. The Incel Rebellion has already begun! We will overthrow all the Chads and Stacys! All hail the Supreme Gentleman Elliot Rodger.
(All signs point to the post being authentic, but the reference to 4chan, the origin point of many online hoaxes, has been a red flag for some analysts.)
The place to start, in distinguishing between these attacks, is by defining terrorism. The word has been politicized like few others, used as a rhetorical tool to demonize society's villains du jour. Even within academic and policy circles, there is dispute over its precise meaning. Within the U.S. government, terrorism is a word usually, and improperly, reserved for jihadist …read more
Via:: The Atlantic